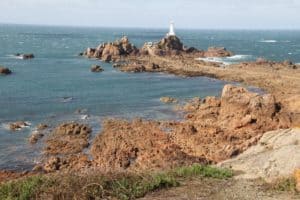 What a wet and wild night that was, thank goodness it was only my bike outside. After a much better nights sleep, on a firmer bed I had a gorgeous scrambled egg breakfast and left The Village b&b to a windy but dry morning.
I freewheeled down the hill and biked to St Aubin to meet up with snowboarder Peter, my guide for the morning. When he arrived on a uber lightweight carbon bike, I knew I was in for a struggle especially when he started talking about 8min running miles 🙁 in ParkRuns
We shot off up the old railroad track to the lighthouse at Corbiere Point and met the full force of the huge westerly wind 🙁  It was really stunning scenery and I was glad of a breather :-). At the bottom of the hill Peter suggested a rough track around the hill although it meant carrying my heavyish bike up a flight of  steps..
Once down at sea level again and along the bay we stopped at the Jersey Pearl shop for a much needed cream tea. 🙂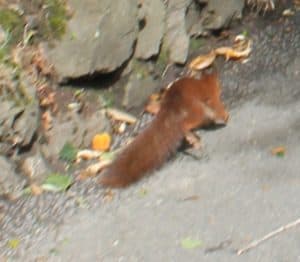 Then it was of again up a very steep hill appropriately named Mont du Vallette , after a rest at the top to admire the view and Peter"s old childhood haunts we biked on, a bit inland of the coast, to our next tea break at the Durrell Wildlife Park. Then it was time for Peter to do his domestic duties so he flew off. I continued at a more leisurely pace, even spotting my first red squirrel, around the island. It really is beautiful with well maintained roads and on the whole courteous drivers. With the ferry from Portsmouth it probably makes a decent long weekend trip from the UK.
Once in St Helier I make a quick recce of the seawater lido, looks promising for a dip! Instead of returning back to the b&b I started the circuit again this time dropping down to St. Brelade's gorgeous sandy bay. However, The Crab Shack had closed for an afternoon nap so I discovered the Wayside Cafe for my crab salad instead.
Once back at the b&b I confidently started to book a ferry to St Malo for tomorrow. However, to continue a theme, no ferries run that way on Saturday 🙁 so it's another night on Jersey for me! I've moved myself to a place in St Helier so I can use the lido etc.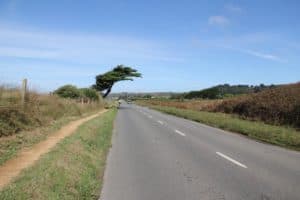 A good day and it was great to have Peter, a local, to show me around. The Strava shows  I did 44.7 miles and 2094 feet of climbing
My pictures of the day should be here on Dropbox:-