Wednesday 7th February 2018
What a relief, a day of wall to wall sunshine along super bikeways and quiet roads between Alicante & Murcia all be it with a bit to much chill in the air for my inadequate clothes 🙁
I left The Esplanade Hotel in Alicante after an OK breakfast and retrieving the bike from the left luggage store. Excellent to see that the narrow streets have the cycle lane clearly marked down the centre of the road giving space for the parked cars doors to open and more importantly letting cyclists set the speed of the cars! What a great idea no need for ridiculous 20mph limit signs all over the place plus infinitely safer for cyclists.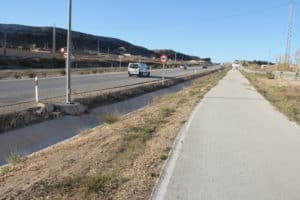 Once I reached the new roads what a joy to see wide dedicated bike tracks alongside the dual carriageways even cunningly using storm drains to cycle under the cloverleaf junctions a great dual purpose, although they could have adjusted the gradients slightly to allow the last 1″ of water to drain away! The cycleways went on for about 20 miles outside Alicante and then the route reverted to minor roads through miles of lemon groves interconnected with very short sections of tracks.
The bikes gears kept jumping all over the place no doubt from all the carrying and knocking about on the marathon train journey here. I oiled it up and fortunately the road was pretty flat so I only had to pull the front changer wire once to get it into the big cog. In Orihuela, I also stopped & rotated the handlebars up as my left hand had developed an annoying pain where I hold over the hoods.
The La Dama cafe was incredibly busy and not surprising given a coke, bottle of water & a couple of biscuits was €1.50! Later rounding a bend I nearly ran into another English cyclist who is living in a camper van over here &  going out on his classic bike every day said he did Audaxes too! Loads of Spanish groups and individuals out too but very few acknowledgements when they passed.
After 53.6 miles and a dawdling 10.9mph I eventually arrived at Hotel El Churra Vistalegre which is going to be my home for the next 4 nights 🙂 Tomorrow I will check my bike into the local Specalized shop to get the gears adjusted (how lazy of me) as the Audax is a really hilly course.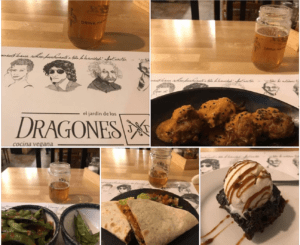 In the evening, and how strange is it that restaurants only open after 9 pm, I used Google to find the Dragones Vegan Cafe excellent food & value for less than £18.
Unfortunately for some weird reason, I can't access Flickr on the hotel network 🙁  and since I've already used 1.3GB of my mobile data allowance I'm limiting my mobile data usage 🙁
Here is the Strava for the day:

Flickr Pics: