Today Hanoi returned to what I imagine is its usual frenetic pace. The city just reminds me of a huge army of ants, nothing stops them! put an obstacle in their way it's instantly routed around. Everywhere there is huge business competition (unlike the pseudo competition in the UK/EU/USA  between less than half a dozen 'market leaders' all held in place by cozying up to government in various guises)  . Also there is a remarkable lack of aggression. Hence the ability to walk across an endless parade of scooters, bikes etc. they just flow past you. Marvellous 🙂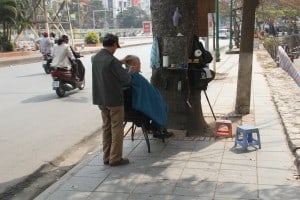 Everyone is working on a myriad  of jobs, no premise needed, licenses, H&S . Just set up on the pavement hang a mirror on the tree & you are a barber etc etc
First stop was to get a manicure/pedicure foot massage for less than £10. The owner had lived in Kent (that county again!) for 7 years but had returned , first tried to run the business with his new wife in an upmarket mall but the rent was to high so moved to a lockup shop.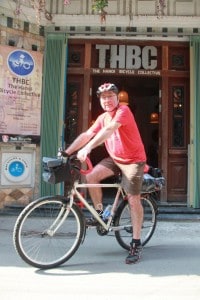 I collected my bike and George at THBC had done a grand job, the new butterfly handlebars are excellent and my bar bag was on in minutes. The one pannier idea didn't work as my foot hit it plus it made the bike unstable. Instantly it was slapped on top of the rack with a huge bungee, so now it looks very Vietnamese. George reckons I could add another person under 40kg as well :-). Fancy a ride Isla?
This Hanoi Moment hotel is also superb especially with the free upgrade. Later, I tried to get my old Travellers Cheques cashed but no bank would take them 🙁 But it was interesting to visit loads of such anachronistic institutions. I wonder when I will be able to travel just with Bitcoins on my iPhone? It's going to be a massive revolution and its just around the corner unless the wretched USA/VISA/MASTERCARD cartel gets it stopped.
So tomorrow it's the Ho Chi Minh trail down towards Singapore 🙂 🙂
Todays pics are here
P.S. In reply to Pete comments on an earlier post. I could see no traces of the massive aerial bombardment in my wanders today.  I can well imagine them just getting on filling the gaps and getting on with business as usual! r