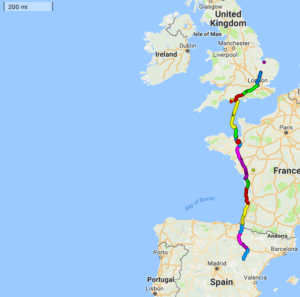 I've now cycled 1,051 miles on this latest trip and ascended 31,615 feet according to Strava. The elevation gain is slightly more than one Everest.
I've cycled on18 days in the 26 days since I left home.Giving an average of 58 miles per day and 1,756 feetof ascent. The missing days were travelling to and fro Cambridge/Kings Lynn
So far it's been amazingly enjoyable with good weather apart from the Southerly headwind and a jhalf day of rain.
Spain seems to be a great place for touring with some very inexpensive places to stay and lots of accommodation and bars.
Tomorrow I continue towards Valencia which I should reach on Sunday. For some reason ferries to Ibiza are half the price than from Denia even though the crossing is nearly twice as long.
Once on Ibiza I aim to tour the island and maybe to go to a all nighter or two, if the clubs are still open. Plus I've got to find somewhere to leave the bike for when I go home to take the twelve of us to Butlins 🙂 Then I'm returning with Sally so she can see the delights of Ibiza and and some of Valencia for a few days