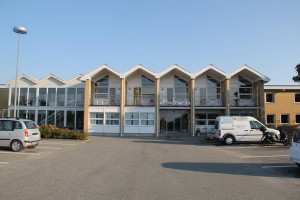 A glorious day for a bike ride; bright sunshine and a cool eastern breeze with lovely smooth paved surfaces. I fair zoomed along with the wind definitely helping, the countryside like my breakfast at the sports hall was a bit uninspired but pleasant enough. In Hals just before the ferry I found a pleasant bakery cafe which did divine Danish pastries 🙂 After the ferry I was going so well I missed a small section of the 5 cycleway, I only spotted the mistake when I saw the route crossing the road I was on, this led onto a bit of dirt track before the smooth tarmac reappeared around the corner.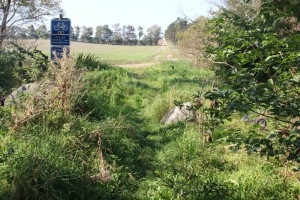 At the slick looking Lille Vildmose centre (of the same ilk as Welney swan visitor centre) I stopped for more coffee and cake to relax in the quiet (once the school party had left). After this Route 5 descended into grass & gravel tracks up the chalky hills (reminiscent of the Suffolk walks we have done with Cambridge Rambling Club) the poor Dawes Galaxy wasn't built for these tracks, as you can see from my Strava when the speed plummets!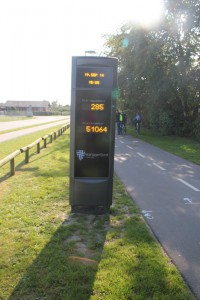 After Ostkystruten the route turns smooth again obviously running on an old railway line as you enter Hadsund there is a bike counter identical to the one recently installed on Parkers Piece in Cambridge, except this works of cause! Each side of the display shows the count of the bikes going each way, it uses four embedded sensor wires in the tarmac (just like I developed in the original Scandrive). The Cambridge one was connected up so that each bike is counted twice each way!
The Danhostel Hadsund is actually huts in a camping ground, by the school, so the showers & toilet are in a block that need a hike to get too 🙁 not so good for an old man in the night 🙁 plus the MAJOR disadvantage of no WiFi 🙁 although the Three 3G signal is good and the ground does have excellent views over the estuary.
In the evening I had an email from my trip advisor, Jens, 🙂 so I hot footed it to the da Vinci restaurant by the waters edge. Excellent food although it is turning rapidly chilly as I type this sat on the terrace.
A relatively effortless 60+ miles the Strava is here and a few pics here
Friday 19th September 2014