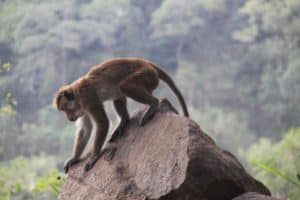 A great start to the day, a 5km freewheel down a few hundred meters 🙂 Since it was only 6.40am I even had a touch of white fingers from the cold 🙁  However, going up the hill into Ella soon sorted them out. Ella must be huge in Lonely Planetas it was totally crowded with youngsters and rucksacs 🙂 I had a quick omelette breakfast but soon moved on when the bill came 🙁
The hill then gets pretty steep with me hoping for dear life that the brake cables wouldn't break since its a vertical drop on the left and a hard rock face the other side. I stopped to photo the monkeys and then joined the throngs taking pics of the waterfall.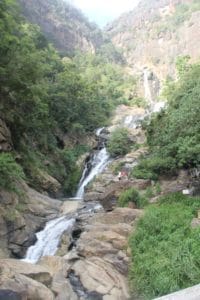 All went well with no mishaps. Near Wellaway I saw my first touring cyclists. A couple laden down with gigantic panniers still with white skin so I guess just starting. I waved and continued into town. I saw the Dialog mobile shop who quickly diagnosed my data problem. Apparently you are allowed 1/21 of your data per day with only1/3 of that available between 8am and midnight. No wonder it ran out by 11am :-(.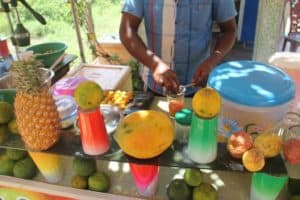 Once on the flat the heat returned and my necessity for drinking buckets of liquids! A 1litre bottle of pop gone in a few seconds 🙁 On the way I met a couple of budding entrepreneurs selling REAL fruit drinks very skilfully made, no machines or electric required, It now needs a whole network of these setting up, rather than folks trying to sell you a whole water melon!
You can tell I've hit tourist main stream with the guys on motor bikes sidling up and offering tours etc etc. Eventually I hid and booked The Wild Tusker a new hotel in the middle of nowhere – A good job I'm used to of road riding. The room is ginormous at 50m2 with 4 doubles and 2 singles, bit weird.
Mohammed cooked a great Indian meal for me but alas no beer.
Tomorrow I start exploring the coast and seeing on how to view the whales etc.
The 69 mile Strava is here and Pics here