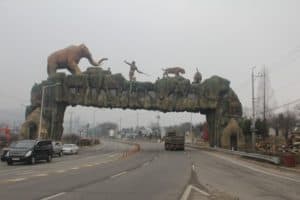 Monday 27th March 2017
What a foul weather day! I awoke to thick grey cloud and finished it in pouring icy rain 🙁
The going was also very varied from old broken roads which would compete with the worst in England to high-speed smooth very busy expressways with the cycle paths following a similar pattern.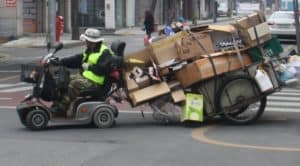 I stayed on the old road out of Jeonkok for as long as possible before hitting the incredibly busy 3 highway 🙁  after a few miles I turned off along the river by Anheungdong this road was unbearable and I was getting hungry I finally found an open bread shop in Dongducheon, a town that will never feature in any tourist brochure 🙁 Leaving on the 3 road again I finally spotted a cycle path alongside the river so down I went. Very grateful to leave the traffic behind at last. This track finished in Deokgyedong a far more upmarket place with a decent coffee shop 🙂 Then it was pounding down another busy road until just after Yangu station I spotted a bike path, pulling the bike across the verge and through a carpark. I zoomed down shortly meeting up with a magnificent path that took me all the way down to the main river 🙂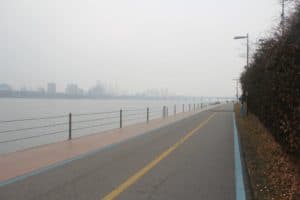 I went through a small shower at the promised time of 2 pm but the 4 Rivers Path was on the other side of the main river so I had to do a huge U to find a bridge that cyclists could use. On the other side there were huge puddles 🙁 so I set off with a huge cloud following me. Near Bangi-Dong I checked the maps.me plugin (works offline) and discovered a nearby motel. I set it to find the route and set off. Too late the heavens opened, the iPhone7 is waterproof but the screen goes crazy with the rain drops 🙁 so I ended up all over the place, with much cursing, I was freezing.
I eventually found Hotel Murore a decent enough place the goodie bag is not as grand as the first night, obviously, folks here have shorter breaks. One disgusting feature is the heated toilet seat 🙁 I've unplugged it now.
Apart from the weather a good day although it has me thinking about the pros & cons of dedicated cycleways since down at the riverside you get to see so little of the city/country life.
Strava says I managed 55.6 miles  the day's pics are here