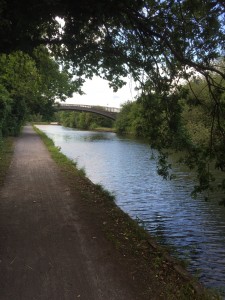 Finally, halfway through the year, the apartment sale is finally totally complete and I'm able to start travelling again albeit currently restricted to shanks pony as having 1/3 of my prostate removed in the HoLEP operation 3 weeks ago makes it inadvisable to do long bumpy bike rides for a while. I decided to stick locally as well  until all the pain when I pee has gone away.
The Grand Union Canal walk from Central London seems a good idea as it isn't to strenuous but long enough to take a week or so. I still haven't decided whether to go to Birmingham or take the branch to Nottingham.
Today was a late start as I first went swimming at Jesus Green and then posting my old thermostat that I sold on ebay. So I finally arrived at Kings Cross at 2.30pm.
It was an interesting walk along Regent's Canal to Little Venice and then along the Paddington Arm of the Grand Union to Alperton finishing today at the demolished Hovis bread factory. Very pleasant except for the constant stream of cyclists bombing along 🙂
My nephew Phillip is kindly putting up with me for tonight, although a first for me was navigating across three bus routes to reach his flat. I ended up getting the busmapper app as the fellow passengers were too friendly bombarding me with all the options. Weird at 67 my first attempt at being on the buses!
Tomorrow it looks like a huge loop and heading south for 5 or so miles to avoid the hills at Harrow.
According to Strava I did 13.6 miles in just under 4 hours. The pictures of the day are here