Spot the difference?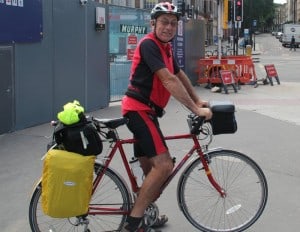 I thought it would be interesting to compare my two rides to Les Gets. The first ride was in August 2009 where I rode the 767 miles and in the saddle for 72.6 hours over the 10 days it took.  This time in August 2013 I travelled 774 miles with 76 hours in the saddle but over 13 days.
The biggest differences are:  I'm now 6% older,  4% lighter but  now carrying the tent and additional Danube guides etc in the two panniers making the bike weigh a total of 44 kg , in 2009 it was probably about 25kg .
So although my average moving speed has only dropped from 10.6mph to 10.1mph (5%) the actual ground covered each day has gone from 76.7 miles to 59.5 miles a 22% reduction 🙁
For the rest of the journey from here to Zurich and then down the Danube to The Black Sea I'm very tempted to dump the tent etc and revert back to the saddle bag.  However we will see….
Here are the tables, click to enlarge: