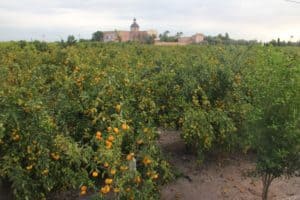 I left Complejo Touristico La Pinada at just before 9am after breakfast. It was a fast ride down to the coast through the gorgeously scented orange groves, the small oranges are a bit sharp to eat 🙂 Valencia seems to starts miles away and has a complex series of bike paths so it was well over an hour before I finally I reached the "Do You Bike" shop.
The guy in the shop said he would replace the spoke whilst I had a coffee across the road unfortunately he didn't have a spoke the right length 🙁 However, I've been carrying a spare spoke for years so one coffee later the job was done 🙂
Next on the agenda was a ferry ticket, so I biked down to the Trasmediterranea terminal to get a ferry.They had one sailing at 10pm reaching Ibiza at 5am unwisely I didn't book a cabin 🙁
Next job was to find the closest hotel to the terminal as I will be returning with Sally (no Easyjet/Ryanair flights from Ibiza in November) so she will have to return to the UK from the mainland. The hotel closest to the port is hotel Marina Atarazanas so I booked a room for us on booking.com, the receptionist said it was cheaper that way.
I then spent some time biking around the transport terminals of Valencia to see if there is any  straightforward way of getting to the Castellon Airport, simple answer is no. Anyway I then discovered that Ryanair also flies from the main Valencia airport with its 15min bus service to the city centre! A wasted 30 minutes on the Ryanair chatline now means that Sally can either fly from Castellon in the morning or Valencia in the late evening 🙂
After all that a visit to the beach was called for and a drink to while away the time before the ferry, Fascinating fact that n Valencia there are several  river bridges which no longer cross a river. How weird.
The crossing was smooth but my sleep certainly wasn't I arrived at 5am to a deserted town, feeling wrecked. I rode around and eventually found the catamaran terminal had a coffee shop 🙂 At 9am I thought I would give the Hotel Lai IBZ a try, amazingly they let me have my room, a quick shower and I was asleep 🙂
Later I explored the old town which is really very pleasant and I found an ironmongers shop as well to get a bolt for my light plus finding Can Manola a bike rental place so Sally can rent a bike when she is over later this month.
The place is winding down for the end of season but I discovered Pacha had a gig on starting at midnight so I bought an amazingly expensive ticket and went to bed again 🙂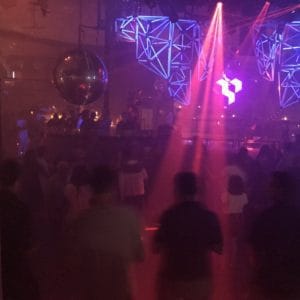 The gig itself was disappointing, one thing I can't stand are bad sound systems, having spent my youth building power amps and sand filled loudspeaker enclosures I just hate resonances when the ceiling starts rattling and putting stuff on loudspeakers so they rattle is just awful. The drinks are a staggering price too. No wonder Pacha own hotels & retail stores.
So after 48 hours I finally went to bed at 3am 🙂
The 18.6 miles to Valencia is on Strava here
A few pics are on Dropbox here
Still trying to work out how to get past heart rate data 🙁