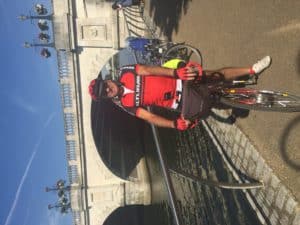 Phew what a scorcher as the tabloids used to say! with the temperature n the thirties,  a bit like riding in South Africa / Cuba except for the traffic and awful state of the roads.
After a bad night's sleep, the Turkish food did not agree with me leaving me with an urgent call to nature at 2.30am 🙁 I left with Em at 8am.
First stop was The Olive Tree cafe around the corner for some brekkie then it was a ride through the hilly capital with its disgusting road surfaces 🙁 except interestingly up millionaires row around Hampstead Heath. The ride through Richmond Park was gorgeous except for the obligatory hill 🙁
In Kingston I met up with Nigel & Margie friends from my Cavendish days in the 70's for a drink and natter then  I cycled past Pirbright and onto Farnham a town that has decided to gives its centre over to cars 🙁 After Farnham hill I entered open country for the first time where I was hoping to find a country pub to stay in. Alas it wasn't to happen, the pubs not closed down were either full or didn't do b&b.
Finally after 11 hours on the road I arrived in Winchester to find the hotels full 🙁 eventually I homed in on the Westgate Pub and its last available, expensive, room but at least the bike has slept in the pub overnight!
Strava made it 88.6 miles and 2415 feet of ascent, or though it seemed a lot more ascent than that! You can find it here