Wed 16th March
The day started well.  Way before sunrise I was having a breakfast at the local Wimpy bar and stocking up with energy bars (why oh why does everything here have to be covered in chocolate which turns into gooey mass by 10am).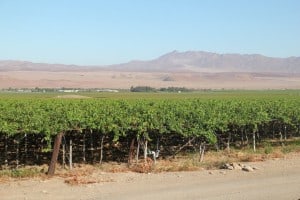 I turned on the light and pedalled of in the cool through all the vines. Apparently virtually all European eating grapes in November come from these fields. after a while I bumped into Alice & Oliver a young French couple cycling down to Cape Town it had taken them 4 weeks to get down from Victoria Falls on the A11 Elephant road to Nata in Botswana, sounded amazing. I continued down the dirt road  aiming for the Spar shop but lost in my dreams I overshot it by a mile 🙁 so then had to pedal back 🙁 Stocking up on stuff for a planned overnight camp added at least 4kgs 🙁 Now I could barely lift the bike 🙁  onwards I went down the Orange River Valley.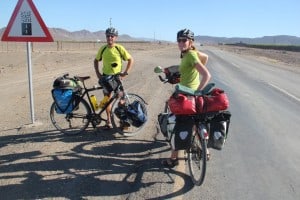 All was well to begin with although the gravel rapidly became a sand road – total murder with a laden bike. I stopped at a shady building with toilet etc. at the National Park border and devoured some lunch a litre of water followed by a nap. I set off again in the afternoon heat the going was very tough. Eventually I came to the start of the big hill, and started having to push the bike through the wretched sand, A big guy in a pick up truck stopped and asked if I wanted a lift 🙂 It took both of us to lift the bike into the truck!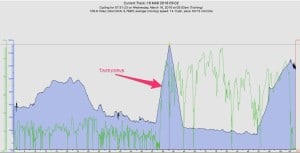 Thank goodness I did the hill turned into a monster followed by a huge sandy descent it would have taken days for me to do it on the bike. We reached the farm, my prospective campsite, but I decided to stay with my good samaritan all the way to Rosh Pinah just counting myself extremely fortunate as the  truck climbed up and down severe hills and round narrow bends. I kept thinking what super heroes these guys like Thomas Anderson are.
We pulled into the service station where I thanked my guy profusely and pedalled off to find a hotel. Fortunately the Amica had a cancellation due to the morning fog stopping flights here. A good ending to a very tiring day.
I did 53.2 miles and 1434 feet on the bike. and another 52 miles in the truck with an additional 4000 feet of climbing!
The pictures are on Smugmug today