After yesterdays superb cycling day, I woke up this morning to very low cloud & drizzle plus totally lacking energy. I would have stayed, but the internet was diabolical cutting in and out all the time.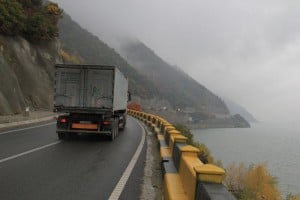 I set off into the wet, thankful for my Aldi cycling trousers as the temperature had plummeted to 12 degrees or so. I crawled up the 500ft climb from Eselnita then dropping down into Orsova, pleased that I hadn't stayed there. Leaving Orsova you meet the E70 & really heavy, heavy traffic 🙁 the road is narrow with many viaducts &  bridges all of which narrow the road even more (for some reason they all have a steep narrow ramp to get behind the barrier – more dangerous than it's worth)  the two tunnels are mercifully short. All in all as bad as yesterday was good. The traffic lessens dramatically after The Iron Gates as the trucks are obviously going to Serbia.
By the time Severin was reached I was soaked and worn out. The good news is that I managed to get a 4G Vodafone SIM for less than £10 with 1.5GB of data astonishly no ID or paperwork required. France take note!
Good sounds were coming out of the Cafe/Hotel Clipa so I called it a day after less than 30 miles, pleased to be out of the rain and to play with 4G for the first time, Although the hotel has good WiFi too. Tonight I had a 90 minute legs sport massage by the local football coach the first masseur who just wanted to talk. At £8 a bit of a bargain.
Rain is forecast for tomorrow if it's heavy I will just stay here for another day.
Todays Strava and a few grey pictures here.