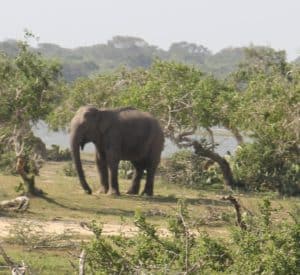 A lazy start to the day leaving Wild Tusker Resort just before 8am after having my two fried egg sandwiches and mango juice for breakfast. I came away feeling robbed, I'm sure I paid for my dinner when paying the owner last night. 🙁
I decided to bike to the gates at Yala National Park knowing I would return the same way. It was a pleasant ride thinking myself lucky not to be in one of the viewing 4WD vehicles bombing along. I had a chat with the gatekeepers and felt sure I could have hopped on one of the vehicles entering the park, but couldn't be bothered so pedalled back and getting rewarded with a good photo of an elephant, it seemed to notice me so I quietly pedalled away.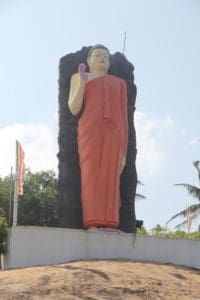 After Kirinda town I disappeared down meandering country lanes on unbelievably quiet roads, I don't think I saw any vehicles except for a couple of motorbikes 🙂 No sea views though until I came into the busy town of Hambantota after having another big pot of curd this time with some disgusting honey substitute 🙁 but it was cheap.
I spent time looking around the town and found another Dialog shop so I went in to find out why my SIM still wasn't working. Turns out yesterdays payment went onto a different number 🙁 and of cause that was just unlucky since I didn't have a receipt 🙁 Good job the amount was only £2 or so. So today I splashed out £5 to get 8GB day data plus 7GB night data and of course I made her give me a receipt 🙂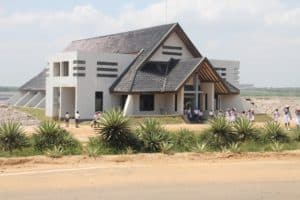 By the time I got turned away from entering the docks and finding my way onto the road past all the houses about to be demolished (tp close to the water I think),  I decided to call it a day and so I'm now at The Samren Hotel. Which is relatively cheap and cheerful.
Todays 48 mile Strava is here and todays pics are here