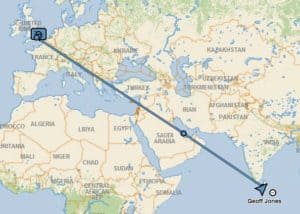 I left home at just after 4pm on Tuesday and finally arrived at my hotel in Colombo, Sri Lanka at 2pm (UK time) the next day! Pretty quick I guess since I'm now over 5,400 miles from home according to Find Friends.
The journey went smoothly and Qatar Air seems a decent airline with a 30kg bag limit (the bike and box with tools came to 25kg and my clothes etc at 5kg my 'carryon' was 7kg full of electronics). Although the flight from Doha to Colombo was in one of their oldest planes I guess. I liked the way the app updated to let me know when the bags were on the plane.
I didn't get much sleep as I started to read "Rides around Sri Lanka" by Richard Cook a fact filled book (actually more like a blog) which I probably should have read at home before departing 🙁
In the rather dispiriting  Doha airport I met a couple of brexiteers from Manchester who are staying for 3 weeks down south here. Will be interesting if I bump into them again like John & Charlotte who I met when biking around Cuba.
The bike box arrived intact and the hotel had arranged a taxi (3300 rupees) to take me the 23 miles to the West Inn. Maybe I should have booked an hotel closer to the airport 🙂
I slept like the proverbial log totally shattered. The bike  is now back together ready for an action packed day exploring Colombo.