The things I can recommend  The Hotel Rila for are it's close proximity to the E6 cycleway through Budapest & the price,. Otherwise the breakfast is mediocre ,it's a long way from any nightlife  unless you are visiting the adjacent hospital. Plus the owner is a bit dour..
The sun was out and a tad warmer than of late. The two notables for me today were the varied road surfaces & the sheer amount of sculpture in Hungary.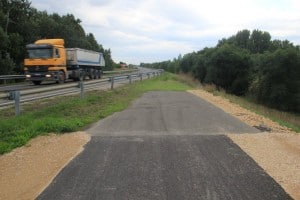 The road surfaces varied from ultra smooth cycleways, deeply potholed tarmac, grass banks, mud tracks, old cobblestones narrow footpaths, tree route paths and raised pipes crossing the road! Unbelievable that it's all meant to be the E6 European cycleway.  In fact Hungary reminds me more of the UK in municipal  stupidity than Germanic countries connected efficieny . e.g. In one spot outside Solt there is a perfectly good road that has been by-passed so perfect for biking etc.  A priority for action with all the stuff that really needs doing? of cause –  at vast expense its been narrowed, new tarmac  laid with limestone edging. Just a pity that where it meets the new road they forgot to allow access. see the picture.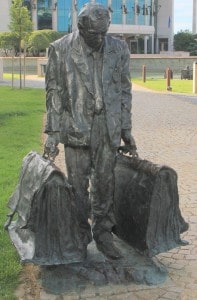 But one thing that Hungary does different than the UK is the classic sculptures, leaving Budapest in a renovated riverside area just full of lovely bronzes.  I fell in love with this guy carrying his cases, the expression on his face was wonderful.
I met up with a young  French couple on a tandem, The guy is a rugby player  from Toulouse where they had started, so as you can expect I didn't keep up with them for very long. But very interesting to talk to all be it very briefly 🙂
Tonights place Bringa Panzio  (Warning: has a sound file)  is ultra modern & really very well built & designed. A good find from AroundMe which I must say is a great app for when you are travelling. It has no fans, lifts & other man made noises However, the rain has just started on the Velux windows 🙁
Here's the Strava for today's 74 miles and now very nearly halfway down the Danube with 14 days  in the saddle.
Todays pics are here