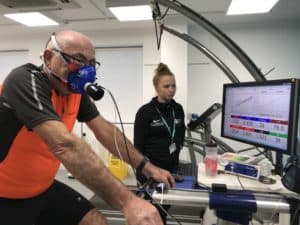 During Cambridge Science  Week Sally and I visited the stand of Anglia Ruskin University where they were promoting their Physiological testing, we had a quick go on their stationary bikes. Being the sort of guy I am I immediately booked in for a real physiological assessment.
So today I found myself in the Compass building on East Road undergoing a 45min bike fitness test!
My height has now dropped a couple of inches down to 1.75 metres and they couldn't quite pinch an inch only 21mm around my midriff although my weight is now a shocking 84.05kg (13stones 3 lbs) definitely on my upper limit with body fat at just under 26%. My heart rate in the morning was 51bpm and pressure 150/80
Then it was onto the very posh bike complete with gas mask, strap heart rate sensor & someone to prick my finger every 3mins to do a lactate test. I set off at a cadence that I had to keep constant during the test I chose 75rpm and 100watts. Every 3 minutes the wattage is increased by 25watts whilst I tried to keep the 75rpm with the guy taking a blood sample at each setting.
Really weird not to experience any air movement when working out plus my mouth rapidly dried up inside the face mask making it uncomfortable I eventually reached 250 watts at which point I was feeling knackered.  The results showing my heart rate was now up to 157 bpm and the blood Lactate at 4.5 mmol Litre,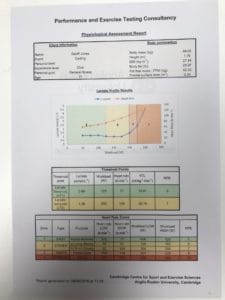 After a shower, they went through the results with me saying I was deemed fit for an old man 🙂 but showing I really need a power meter to do workouts in the 200-watt range with a heart rate of 105 to 116 bpm.
An interesting and worthwhile experience with lots of pretty graphs below:
Addendum:
Sally reminded me that we first met the ARU guys at the Cambridge Half Marathon check-in on the 3rd March at ARU.
Richard reminded me the actual date of the test was on Monday 9th April