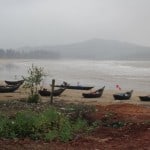 The route I worked out for today using Bikemap.net was perfect on totally traffic free roads and hugging the coastline. However, the weather was far from perfect! Incessant cold rain, more like an English winter ride than a sub tropical one.
The beaches all looked very sad & desolate even though I'm sure they are idyllic in the sun.
I arrived in Vinh at midday a totally a drowned rat, frozen & shivering. I tried warming up on some broth but that didn't work as Vietnam places have no heating or even doors. So I decided to give in for the day and find a hotel.
I ended up at the Thien Tan Hotel which looks OK from the outside but the room is basic in the extreme. After closing all the windows and using as much hot water as there was (hint:not much) I wrapped myself in the thin duvet with all my clothes and fell asleep.
Now debating on how I'm going to cross the mountains in a few days time, the forecast is more rain but warming up a little. I've bought a wooly hat in the market today but I'm beginning to think more may be needed.
Here is the Strava for todays pathetically small  36 miles: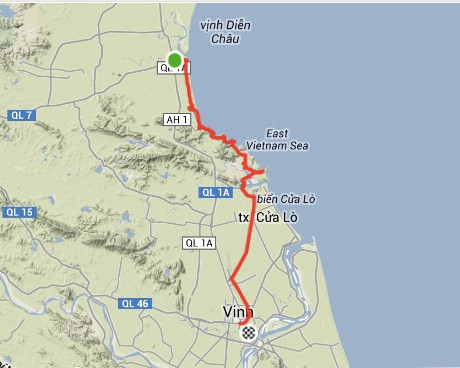 A few pics are here