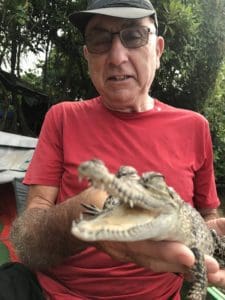 The main reason for staying at the stupidly expensive Bentota Beach Hotel was so I could use their river cruise through the mangrove swamps. I opted for the one hour one as experience tells me I rapidly get bored sitting in a boat 🙂
It was just me and the guide, a young chap who spoke good English and had sharp eyes. So we quickly saw a lot of wildlife: herons, lizards, crocodiles come to mind. A nice tourist touch was pulling in and a guy with a baby crocodile stepping aboard so you could have a picture taken with it, me somewhat nervous of all those teeth.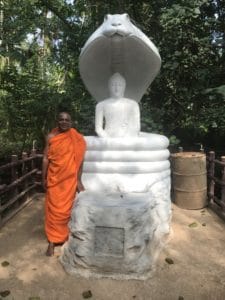 In the afternoon after a decent swim in their 35 metre pool, the best feature of the hotel, I took myself of for a walk. The touts soon leave you after 50 metres of walking and I was soon on my own. On maps.me I spotted the Siri Sumansrama Temple (interesting that Apple use the name Siri for their digital assistant) so I headed over their. The place was deserted, its quite a modest temple but soon a monk came over and invited me in 🙂 He showed me around explaining why the Buddha is surrounded by Hindu figures and also the new Buddha statue they are making under the Serpents head. All very symbolic and interesting.
I was then invited into his house for a cuppa and cake, well I am a cyclist 🙂 Where he told me his story of becoming a monk when he was 9 and staying at this temple all the time and how he learnt such good English.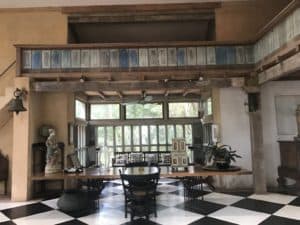 The subject soon turned to architecture the next thing I know we are in a Tuk Tuk to see the totally stunning former summer home of architect Geoffrey Bawa at Lunuganga. Wow totally amazing, he was obviously a keen arboriculturist as well the selection of trees was stunning! A gorgeous tall Teak at the entrance and then planted & trained  trees inside like Balsa, Ebony, Temple trees (Plumeria) and a lot more. The whole estate is cleverly designed to maximise the elevated position in a dog leg of the huge river. I just loved it and reminded me of Chris & I visit to Henry Moore's old studio near Cambridge.  Totally incredible and many thanks to my new monk friend 🙂
A very interesting and enlightening day with loads more pics  here