I managed to be on the road at 6.30am after discovering the reason for my leg sore yesterday was because the saddle had twisted slightly to the left so well greased up with vaseline (not recommended according to Sally) I left Bamai Motel feeling comfortable and determined not to get dehydrated today.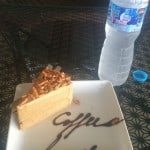 I was helped by the conveniently spaced , western style coffee shops 🙂 so every hour or so I stopped for a jumbo Frappuccino and a 600ml bottle of water and cake 🙂 Yummy to if a bit expensive. It seems there is a clear two tier pricing system here. Local food is cheap ie meals for £1 to £2 and Western style  food like coffee & cake for £3 . This scheme worked well, I even at to stop for a pee at one point 🙂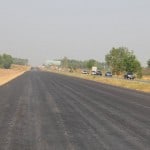 The road is quite busy and is in the process of been dualled although interestingly its the bridges that get left till the end, maybe they have a shortage of cement or steel?  The result for me was good, as I used the unfinished empty carriageway hopping onto the busy road to avoid the unfinished bits 🙂
After 67 miles at 1pm it started to get way to hot for me so I pulled into the rundown Phaon City Hotel 🙁
This evening I discovered a great little restaurant the other side of 12 lanes of traffic 🙁  It has a cool name of ครัวโสภณ the menu is in a similar style, luckily a young couple on the adjacent table spotted my bewilderment, the girl had lived in London so spoke good English, so within moments I had another great Thai meal. The young guy aspires to cycle like me 🙂 and if he is reading this please send a copy of the pic to me at blog@geoffjones.com
Here is today's Strava:

Todays pics are here or if you want the complete set of pics and not have to use the dreaded Google+ thne go here https://geoffjones.com/pictures
Tomorrow BANGKOK..