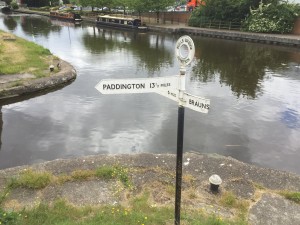 Nephew Phillip kindly dropped me back outside The Black Horse in Greenford at 9.30am ready for the first full day of walking along The Grand Union canal. Last night he cleaned up his 24 or so entries in my address book 🙂 and maybe found out why his son Marcus embeds himself into my Google photo albums wherever I am in the world 🙂
It was a lovely day and as always canals offer fascinating glimpses into town life, past Sotheby's modern storage depot on an industrial estate to the Mohammedi Park Masjid Complex but then I had to resort to peering over the vast fence that stretched for miles by using Google Earth, t to find out it's an Heathrow car park! Maybe I will have to carry a drone in future 🙂
At Bulls Bridge you hit the main Grand Union canal and do an abrupt right turn, must have been hard for the horses towing the barges! How did they manage not to muddle up all the towing lines at junctions like this?
The canal is a great mixture of industrial complexes where I play the guessing game and modern flats which have been built on derelict sites. Interestingly how the canal role has changed! now its an asset so the flats face the canal whereas industrial places always have huge fences shielding them from the canal.
The canal then gets more rural and is totally fascinating that it is so rural and you are totally unaware of cars etc. and only the noise of trains.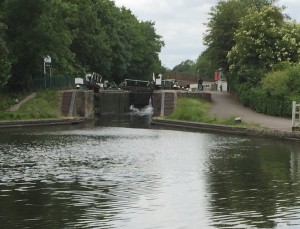 At Rickmansworth I thought it would be good to start looking for a b&b, alas the owners of such places can't be bothered to answer their phones 🙁 booking.com could only find expensive places miles away. It was a pleasant evening so I kept walking, in the knowledge I was carrying a tent. Just before Watford i met a freindly walker out breaking his new shoes in. He told me of a great wild camping place near the Watford Rugby pitches so I was happy. I dropped off the canal to try eating at The Harvestor PH – nightmare place so I walked over to the Rising Sun and had my fish & chips there, the adjacent Premier Inn wanted £125 for a room 🙁 I politely declined and rejoined the towpath. I met the same guy returning from his walk and he gave me precise directions. I found the spot. Watford Rugby Club were still practising but I snook into a corner pitched the tent and had a great nights sleep for £0
A very enjoyable day with perfect weather. The Strava is here and the days pics here