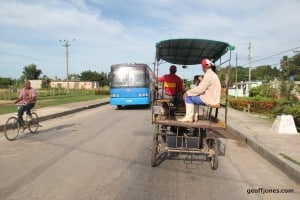 I'm now over halfway in time and folding my paper map (Michelin 786) into two exactly in the centre of the island 🙂 although I don't intend doing another circular tour like along the South Coast so should be quicker to the top of the island. Although I want to stop a couple of days in the Bay of the Pigs as payback for when theVulcans kept us awake. Flying so low after taking off, fully laden, from RAF Finningley in those dire days.
I've spent the last four days bombing across the central plains with a good SE trade wind behind me, smoothish roads and nice gentle hills meant a good turn of speed – well the best an old man on a laden bike can do. The main highway seems perilously narrow especially for the huge trucks and buses overtaking horse carts and cyclists. But I survived although the many signs with the death rates for that section indicate many don't. Haven't seen any touring cyclists either since Holguin except for two obvious Germans 🙂 this morning.
Since my last post I've stayed in homestays at Las Tunas, Camaguey, Ciego de Avila & tonight in Sancti Spiritus My favorite city been Camaguey which seems to be showing signs of entrepreneurial activity in folks front rooms. Worst homestay by far was in Las Tunas, where all the walls of the room were draped in fabric & the lady couldn't be arsed to do breakfast 🙁
Accommodation hasn't been a problem the last few days, if I circle the main square a few times someone will grab me and show me a homestay (the word casa particular seems to have fallen by the wayside) they are generally $20-$25 a night plus $3-$5 for breakfast.
I love the way when I stop for a snooze in the middle of nowhere ie a bus shelter, some guy will beckon me into his house and give me a drink and food. One guy even got a bowl of cold water to tip over my head 🙂 great way of cooling down.
Here in Sancti Spiritus at the Hostal Calle Real the homestay is great with an open courtyard where i'm writing this. By the church I've just devoured two large homemade gorgeous chocolate ice creams made in plastic drinking cups at 6CUP (15p) each a true bargain 🙂
A quick thanks to John & Charlotte for the moral support & energy bars at various points where we met on their car tour of the island after first meeting at brekkie in Santiago, Car touring is probably a saner way of exploring Cuba 🙂 Hope you both had a good flight home.
The stats show I've now biked 873 miles and been on the road 17 days. (51 miles per day)
Todays ride is here https://www.strava.com/activities/437686177