Friday 7th April 2017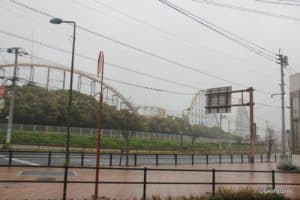 First, today's weather report: after yesterday's atrocious rain 🙁 today started threatening rain with low cloud on the hills and drizzly but this soon cleared up to just overcast and humid through the day, the sun failed to make an appearance although I see Tim & Viv finished the 4 Rivers in glorious heat & sunshine, maybe it's Japan's turn soon 🙂
After a lovely breakfast at the hotel, I started out to reach the preplanned route this involved a   200-foot climb and carrying the bike over a motorway footbridge. Once on the route,  I decided to religiously follow it today 🙂
The route ride was very pleasant zig-zagging to avoid the main roads and taking me through some very pleasant backstreets. I even managed to buy just one orange 🙂 from a shop. The huge San Marco Cathedral is fascinating in that it looks as if it is built just for weddings!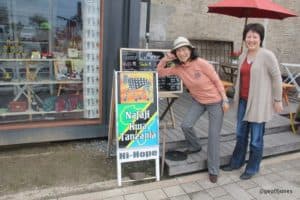 I saw a huge red brick building with a 40-foot container alongside that is converted into a cafe cum gift shop called Hi-Hope. I coveted the delicate wooden cups on display, but alas cycling with so little means I can't carry anything more  🙁  The two ladies were incredibly friendly telling e the history of the building, apparently it was built ~300 years ago as a brewery. and showing me the T-shirt which commemorates Route 199 the Industrial Road that I'm riding. They are off to Tanzania, but not on bikes, in August. I left with my goodie bag of banana and waffles, such lovely people. I could have stayed all day chatting to them!
The ride continued across many level crossings eventually reaching the pleasant town of Port Moji dominated by the huge suspension connecting the two islands Kyushu & Chugoku.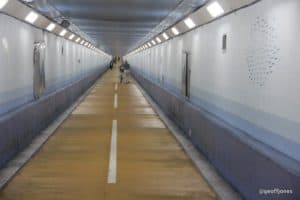 I kept going to the Kanmon tunnel entrance, an amazing pedestrian tunnel that lies underneath the road tunnel. The tunnel is nearly a mile long to walk and 190 feet below sea level! So it's a good job there are lifts down & up.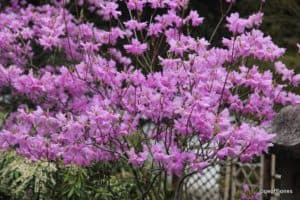 Once out of the tunnel there is a narrow pavement between the busy road and the sea which is just about ridable, certainly better than riding in the traffic. After a while, you cross do a bit of climbing and then onto a beautiful quiet road through pretty villages. In Chofu I stumbled upon the jaw-dropping Chofu Mori House a mansion completed in 1903 by Meiji Moto Moshihiko, the 14th of the Chofu Mouri family. The gorgeous Mizuba azaleas were in full bloom, just so Japanese in their profuse delicate blooms. The house itself just creaks with history the sort of place you just want to silently meditate in.
The quiet road continued past many beautiful houses but alas no hotels so I continued on eventually reaching the Hotel AZ wedged between the old quiet road and the busy Highway 2 with all its stores. It felt like rain so I called it a day after only 24 miles and 692 feet of climbing. There are two Stravas, before and after the tunnel. My Photolinker software can't hack a gpx trail that's been underground for too long 🙁 The photos are here
A very pleasant day easily making up for yesterday's trials and tribulations 🙂