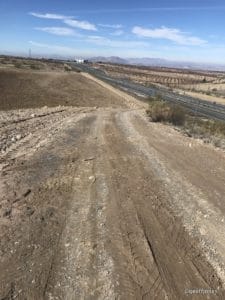 I paid up for last nights dinner, drinks & breakfast a grand total of €16! Then for some weird reason, I decided to follow Google maps instead of the route previously worked out. When will I ever learn I MUST NOT USE GOOGLE MAPS ON RURAL RIDES they take no account of terrain or road surface 🙂 so it first took me up a new 20% very steep pavior blocked road a cool 600ft 🙂 the road obviously put in for wind turbines, once at the top it thought an old railway track with the original track bed would be OK, maybe on a suspension bike with fat tyres but on fully laden 700X23C tyres not really. So I ended up pushing it along till eventually, a tarmacked road appeared and I could glide down to my original route having travelled over 11km plus grinding up a monster hill instead of 5km downhill on a good road. Repeat today's mantra DONT USE GMAPS!
The main difficulty is you have to climb up to the top of one huge valley go across the top a short way and then drop down the adjacent deep valley, just to go west a short way (nope there is no route around the bottom).
My original route took me around the top through Baul and then on a 10km footpath, so in my wisdom I thought the motorway would have a parallel road, on Google Earth it seemed too, so next mistake was to travel along the most never-ending diabolical farm track up and down like a yo-yo whilst the motorway serenely went through cuttings and  embankments 🙁 I did eventually come out with the wheels seemingly intact. What a day!
The valleys themselves are stunning,cut through sandstone the place must have been cut of before the road construction programme started.
It was starting to get late and there was no way I would make it to Granada so at Purullena I checked into Hostal El Caminero for €25 🙂
Here is the Strava:
and the Flickr photos: