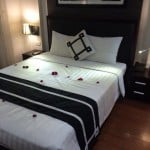 I arrived at the Hanoi Moment2 Hotel  just after midnight (5pm UK time) today after leaving Cambridge at 2.20pm on Sunday, so a pretty exhausting day, I didn't get much sleep even though I had 3 seats on the 787 to myself. China Southern Airways was OK although they do fret about Lithium batteries in your hold baggage, fortunately I only had hand baggage, since I'm only away for a couple of months. 🙂 another interesting thing was that the roads were deserted in Hanoi at that time, they obviously like their sleep here.
The hotel is excellent and I'm finding the Vietnamese exceptionally friendly, although their English understanding is not too hot, but eh tons better than my Vietnamese 🙂
Today's weather was excellent warm with some sun. Unfortunately, I've arrived in their main annual holiday, The New Year. So all the banks and most of the shops are closed. However, I managed to get a few million dong from the cash machine and even better The Hanoi Bicycle Collective was open, although a bit of a trek, especially as I kept getting stuck on peninsulars in the lake, must learn to blow the maps up more on the iPhone.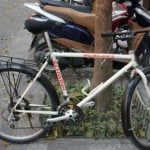 I chose a vintage Schwinn Woodlands bike for  5,500,000 dong (£163) they assured it me it has all Japanese components & new tyres, chain etc so should be good for the distance, it certainly handled very well on my test ride around the lake. The only change I'm making is to get a set of butterfly handlebars fitted like on my Dawes. alsoI'm a bit sad I forgot to bring my Brookes saddle with me. 🙁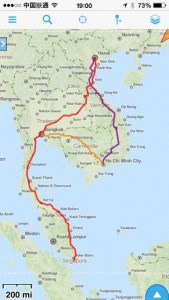 They recommend me to give Ho Chi Minh City a miss (sorry Ian) and he was lauding the virtues of going through Laos (The Red route on my map) with all its very tough hills. It certainly is a lot shorter that way to Singapore. Apparently the Thai elections went well so hopefully the country should have quietened down by the time I get there.
Tomorrow is an R&R day on the bus & boat to Halong Bay. I'm back here again on Thursday so may be starting my bike ride on Friday 🙂 🙂 They say there is WiFi on the boat, I hope so as no mobile shops were open today to get a SIM card & I refuse to pay £6 a megabyte that 3 want!
My little ride today is on Strava. and you should find today's pictures here