An excellent mornings cycling. It  began and ended on busy dual carriageways initially with big trucks to suck me along later big tourist buses. Not so well endowed with coffee shops today but plenty of small towns.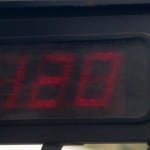 As a lark I rode the bike over the official weighbridge 🙂 Total weight for bike, clobber & me was 120kg, My weight in the hotel gym tonight was 82kg , the main bag weighs 8kg and the bar bag 4kg plus about 1kg of water & bananas so the bike must weigh 25kg
It was real fun coming into Bangkok on really crowded roads, the bike is superb at weaving around the traffic so I was at the magnificent Windsor Suites Hotel at just after 12 noon having left at 6.36 so a good time for over 61 miles. My bike is now in pride of place in the foyer behind the concierge's desk 🙂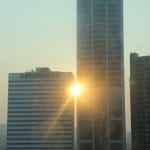 The Room on the 22nd floor is the plushest yet with commanding views over Bangkok, a separate lounge & humungous bed & all for half the price of some b&b's I've stayed at in the UK.
I'm having to stay here till Sunday as my new spectacles won't be ready till saturday afternoon. I've also commissioned someone to make a silk pillowcase for my lovely Chinese silk sleeping bag that I use in less salubrious establishments. Tomorrow I've booked for the River Kwai 'experience', I'm not sure if Bas Humphreys  from my Cavendish days would call it that after he nearly died building the thing..
According to bikemaps .net I now have 1923km of pedalling to Singapore & 30 days from Sunday to do it in.
The Strava is here: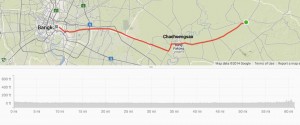 all the photographs are here