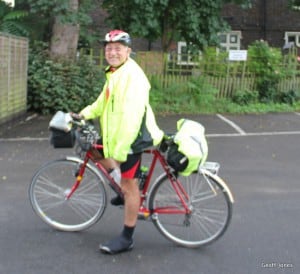 Once I'd decided to bike The Elbe (thanks Sandra for the idea) I needed to get the bike & me to Prague. I didn't fancy the aeroplane way so with a bit of research I discovered from The Man in Seat 61 that there was a overnight sleeper train from Amsterdam to Prague coupled with the Harwich – Hook of Holland & Esbjerg ferries it seemed a good idea of starting the trip 🙂
The awful UK weather cleared a bit so that on Tuesday afternoon I set of to bike the 68 miles to Harwich it was still wild & windy but with only a couple of light showers. However, the road was flooded in a couple of places, which nearly meant a bent front wheel when I descended into a pothole 🙁 this coupled with a swipe across the face from a very long plant shoot meant I was non to happy. Also I must remember when plotting routes that the most direct & shortest is not necessarily the quickest (think crossing valleys). I made it to Harwich in plenty of time only to have to stand in the freezing cold for 2 hours to get on the ship. Thank goodness the boat has the most magnificent shower in the cabin so I could thaw out. Biking there did the trick and I slept solidly till arrival in the Hook.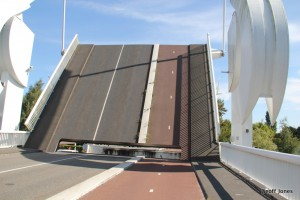 Disembarkation was very speedy and I had a lovely surprise to meet Emiel (One of the Les Gets renters) for a quick coffee before the 67 mile ride to Amsterdam down the amazing cycle ways in Holland. Although beware if you happen to get on a road/bridge the drivers will soon put you back in your place. I stopped for some breakfast in Den Haag and then pedalled on to Sassenheim where I stopped for lunch, Total shock horror. I had left my wallet in The Haag 🙁 🙁 With the Moves app I could show the lady where I had been , she called them up & minutes later I was on a train going back, fortunately my spare hidden credit card was with me so I could get a few Euros for the train etc. All was retrieved and I continued, but much later than I liked so it was a huge rush to make the train. Only to find out that it has no restaurant car and had only a few pringles & beer.
I slept solidly through the night only waking up briefly in Hannover, so at least it's comfortable, although with 3 in the cabin it would be totally dire 🙁
The various Stravas (with gpx files) are: