Monday 26th February 2018
I liked  Lost Lisbon Hotel & Casa de Pasto restaurant in Portugal so much, even with the walk to the toilet, that I decided to stay here all week and return home on  Friday for Sally's Cambridge Half Marathon this upcoming weekend.
Monday had rain forecast in the afternoon so I planned a little route along the riverfront then up to  Sintra and back before the rain started at midday.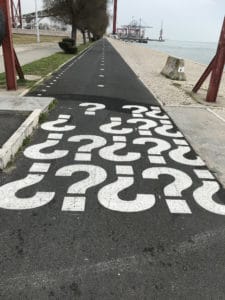 What a nightmare! the river cycling route is a total mish-mash of paths with right-angled bends & cobbled surfaces which if you miss the bend you are in the drink  or cycling on the humungous wide road with the railway in the centre, all a total nightmare, it started raining early and at Cruz Quebrada I just gave up, Portuguese road biking is not pleasant and so I made my way back more or less the way I came. Not a great ending to the bike trip but made me pleased that I didn't hang about in Spain too long as the wind & rain would have been deeply unpleasant when touring.
The Strava:
and Flickr