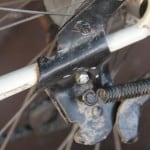 I managed an early start leaving the hotel at 6.38 taking the bike next door to get the kickstand fixed as a bolt had come out. Imagine getting your bike fixed on a Sunday at that hour in the UK 🙂
After last nights culinary experience I had a few bananas and rode on. After 20 miles I hit Banlung which is a large town with banks, lots of hotels & restaurants! So I had breakfast and ploughed on.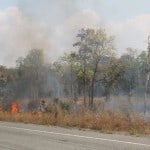 The destruction of the forest is almost complete to be replaced by huge tracts of rubber trees etc Truly amazing all that diversity being replaced by monoculture. after crossing a river there was then a grueling straight stretch of 25 miles or so with no signs of habitation & even worse no coconut sellers, plus the back tyre has a puncture again, so I had to keep stopping to put some wind into it.  🙁  On the outskirts of  Sangkom Andet a shack loomed into view that sold drinks I downed over  a litre of juice drinks immediately plus another half litre at the garage. It is just so hot in the afternoon!
The village had no hotel and with over 80 miles on the clock I couldn't face another 25 miles to civilisation in Stung Treng. Pondering what to do my eyes alighted on a modern pickup truck with two official guys nearby, the rear was mainly empty, so I began a very animated conversation with them (No English of course) eventually I struck gold as they lowered the tailgate and let me sit in the back holding the bike as we roared down to Stung Trenk, after first saving the biking data!
They dropped me of at the bridge so I could bike into town. First place was Gold River Hotel where for $20 they gave me a lovely river view room. In town I found The Riverside Cafe that served excellent food!
Interestingly I met Colin who is working to save Cambodian  vulture,s  apparently vultures have just about been wiped out in India in a few years due to cows been given Diclofenac  (active ingredient of Voltaro). Thus leading to a huge increase in rabies due to wild dogs taking over eating the dead cows. All amazing and there is an article here. If like me you are curious to know more. Plus he told me of the new road to Angor Wat 🙂

The Strava for the cycling bit of the day is here: