Today I gave the bike a rest after its 356 mile ride from Hanoi, although for myself I ended ascending 560 feet and walking over 5 miles plus a couple of 100+ metre swims in the caves.
The Phang Na Homestay offers many excursions to the local national park I chose the Farmstay National Park Tour for 1.2 million dong (£34) which included all the transport, entrance fees, lunch, kayaks & several rounds of brandy at the end. The transport is in their own modern minibuses and our guide was the excellent local  guy  Hung.
About 20 of us started in the rain (of course) through the beautiful karst  jungly mountains, past the rice fields still showing some bomb craters (this was one of the most bombed areas) and to The Highway 20 memorial to 8 young people who were trapped in a cave when a bomb sealed it shut. 🙁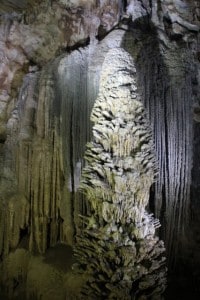 We then went on the electric golf buggies (a first for me) to the bottom of the long ramp that you walk up to the cave opening. You then descent down a wooden staircase into The Paradise Cave which is a very apt name. It's truly awesome, check out the photos & even more amazing to me is how brilliantly illuminated it is with white LED flood lamps. The cave is truly cavernous 🙂 we walked for several km on staging, the ceiling soaring higher than any cathedral. The stalactites and stalagmites have eroded into the most weird shapes some reminding me of the intricate carvings you get in Hindu temples. A spectacular visit followed by an excellent lunch!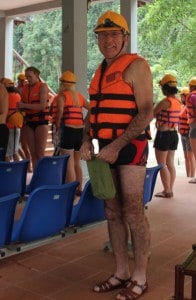 We then moved onto the get really wet & muddy part of the day. We stripped off to our cossies, donned lifejackets & helmets then went two at a time in inflatable kayaks down the river for 200 metres  (bringing my near drowning experience in The Trisuli to the fore 🙁 ) The cave is totally unlit but with our head torches we navigated through narrow muddy passageways having great fun. After our mud bath we walked back to a lake and swam to the far end (50 metres) then swam back and returned to the kayaks. Which proved very difficult to steer in the current going back up the river.
Hot soup & brandy were then served to warm us all up.
An unbeatable day out with a good mix of  fun, adventure & sightseeing. Full marks to Hung for his humour 🙂
The pics are here