Saturday April 1st 2017
50 years anniversary of leaving home and coming to live in Cambridge for 3 years 🙂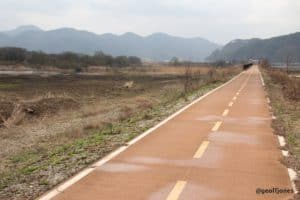 It was a stay or should I go start to the day 🙁 the rain started to clear so I thought I should go. I'm finding it hard to know how long to stay in Korea as I've no idea how long it will take to bike upto Tokyo once I arrive in Japan from Busan.
The added incentive today was to visit the Sangju Bicycle Museum an idea floated by Scott & Laura so at 10.30 I said my farewells to Vic & Tim in one of the lovely patisseries that seem to excel in Jeomchondong and set off on the cycleway.\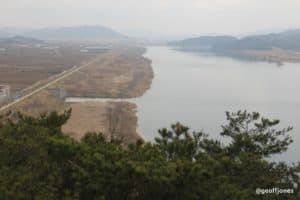 The first 24km was a beautiful custom made cycleway at one of the certification stamp places I chatted to a Korean guy with an enormous iPad strapped to his handlebars been used for navigation etc. A bit of overkill I thought 🙂
Just after 24km the route goes onto an inclined boardwalk then does an 180-deg turn with a set of steps on the corner, which I think if you can lug your bike OK probably;y best to use! as the boardwalk then turns into a concrete road with a 30-degree incline for some distance 🙁 a little bit tough to push a laden bike up.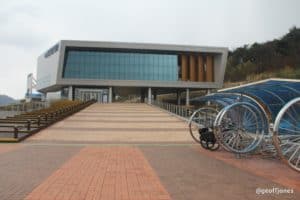 At the top, I still couldn't find any mention of the museum on any of my maps in English so thinking it had Sangju in its name that's where I headed off to – BAD DECISION In Sangju still no luck. In the end, I asked a student who took me to the library where I discovered the museum was a few hundred yards further on from where I left the 4 Rivers Trail 🙁 🙁
Once at the museum I quickly updated Open Street Map to show the museum position in English 🙂 so anyone using maps.me etc etc will easily find it.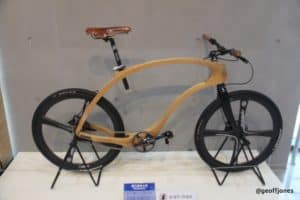 The museum itself is very spacious and grand with outdoor & indoor biking activities for kids. The exhibits are OK but almost 100% Korean as is all the explanatory text. Whilst there I bumped into Scott  & Laura who had found it more conventionally. We agreed to meet up in Nakdongni the path once again became quite hilly and I finally made it in the pouring rain in just over a hour.
The Motel known by its number 3F is OK, my cheapest place yet! and even has a full length towel, the first in Korea 🙂 Eating out was a big disappointment for me as this is a big beef growing area. I eventually had two eggs a bit of rice and some beer.
Strava says I did 47 miles of which well over 16 was messing about going to Sangju 🙁