Yesterday was the big day for my brevet Randonneur 200K GDR Murcia 2018 Villena Yecla, one of the main reasons for venturing a thousand miles South from the UK to escape the icy conditions of my previous two UK Audaxes in December & January, the weather in Murcia turned out as 9°C and 500m up it went down to 6°C so a close call 🙂
I applied for the Audax on Murcia's Ultra cycling site and managed to transfer the €20 to them from my Barclays app (after working around its errors). However, imagine my dismay when I received an email saying  "Don't forget your cycling license."  Obviously being from the UK the idea of licenses is a bit of an  anathema, since Audaxes are specifically not races a Race License at £80 didn't seem a good investment. My post on the Facebook Audax forum suggested my AukUK membership card & Cycling UK card or even as a joker suggested, my Cycling Proficiency Certificate maybe would do.
So I turned up with 30+ others at The Bike Shop at 7.30 am  (the previous day they had adjusted my gears and oiled the bike etc), to find all I had to do was to sign my Brevet Card and an A4 closely typed sheet of paper, who knows what it said, a bit like the webs T&Cs. so totally no problemo.
I was agog at the machinery & bikewear on display nothing like any UK Audax I've been too, plus everyone seemed my kid's age (late 20's to 40's). We lined up for photos at 8.14 and then shot of, crikey it was like being in Taiwan again, instead of scooters at traffic lights it was a peloton. By the third set of lights, with my speedo having shown well in excess of 32km/hr, I knew I would be doing the ride on my own and so no need to worry about not knowing Spanish for chatting! Climbing the first hill I caught up with the only girl and her partner, he was peeing in the centre of the road! a few yards later they flashed past in turbo mode.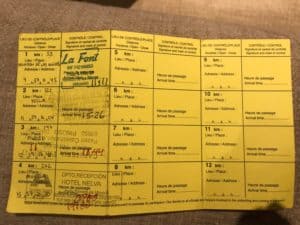 The Audax had 4 Control Points. At the designated distance/town you have to find a bar/cafe/service station and ask them to rubber stamp (sello de goma) the appropriate section of the card and add the arrival time. I chose the first cafe as it was full of cyclists alas none of them knew about Brevets or Audaxes my fellow riders had disappeared hours ago. I was dismayed to find I was within 30mins of the upper time limit. Oh dear mild panic set in as the bars/cafes don't seem to do cakes etc and the service is usually very slow, the waitress pointed down the street to a churro van but I decided to just have my banana and gulped down my €1.20 cup of coffee.
BREVET Allowed TIMINGS

| | | | | | |
| --- | --- | --- | --- | --- | --- |
| Km | Min time | My time | Max time | Top speed mph | Slowest Speed mph |
| 55 | 09.37 | 11.11 | 11.45 | | |
| 121 | 11.34 | 15.26 | 16.04 | | |
| 147 | 12.19 | 16.44 | 17.48 | | |
| 202 | 13.57 | 19.00 | 21.30 |  21mph |  8.15mph |
The wind was pretty strong once I gained some height and always seemed to be in my face especially on the long straight never-ending section between Villena & Yecla. In Yecla I stopped at the service station to fill up on junk food their rubber stamp was inkless, no doubt though earlier overuse!  🙁  After leaving, it's a 90-degree left-hand bend so with a strong wind up my rear & downhill – 40kph was soon reached and joy returned to my heart.
It was pretty good from then on (the difference the wind makes) except in Pinoso where the first bar I went in was run by English folks so of cause no rubber stamp 🙁
I caught the sunset and so arrived back in Murcia in darkness the finish was at Hotel Nelva they stamped my card at 7 pm and then retained it for the organiser to collect and send them for homologation with the Audax Club Parisien.
The roads were very quiet and Spanish drivers seem to be very courteous certainly compared to the UK. The road surfaces are very good apart from one small potholed section which required careful negotiation, but coming from England I'm quite used to that!
An enjoyable but very different experience to riding UK Audaxes especially with the Control Points, End Hotel and dare I say it the youthfulness of the riders 🙂
Here is the Strava which also contains a few pics:-

Flickr Pics