A mega day for me ending up at well over 107 miles pedalled in temperatures in the low thirties.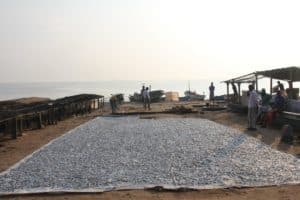 I left Orr's Hill House at 6.39am after a VERY disturbed nights sleep 🙁  A great morning its pretty redundant saying this since every morning & day is great weather wise – wall to wall sunshine and light winds.
The road was a bit hilly for the first 10 miles and busy. Interestingly the school girls weren't all dressed up in white today and a lot more hijab's about. The villages all looked much poorer and I when I stopped at 20 miles for breakfast in a bakery the roll was crawling with mites 🙁 I put it back and picked its neighbour 🙂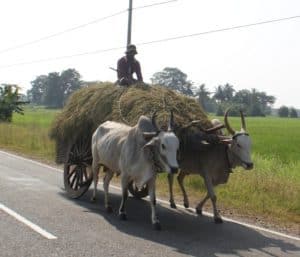 Drink and food shacks were few, far apart and poorly stocked 🙁 Still significant signs of war damage and all the bridges are brand new!
At 60 miles I saw a posh hotel/restaurant sign for "Giman Free" so I headed down towards the sea. Food was OK but very expensive, shudder to think how much it was to stay there but it didn't appeal to me at all to be waited on by obsequious folks.
So I pressed on, the very rolling hills presented no problem to me, the bike is working very well especially for a 27 year old drivetrain 🙂 The road narrows down a bit so on at least 3 times I had to quickly dive into the verge to allow oncoming passing trucks to pass 🙁 at least it keeps me awake.
I booked into Hotel Senaro on booking.com which was a mistake as it was 7K out of town the opposite side 🙁 when I arrived the guy said it was fully booked. What a tosser! I left and trundled back towards town. The Peacock Vista looked interesting and has very reasonable rates plus they sell beer and food 🙂 So I'm ensconced in here for two nights so I can do the tourist bit and explore the ancient royal city with a cycling guide tomorrow  🙂
and a few pictures here