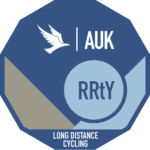 I'm now the rather proud owner of my first Audax award one of only 819 folks in the UK 🙂 The award is given for completing at least a 200km Audax on twelve consecutive months hence its name "Randonneurs Round the Year" or RRtY.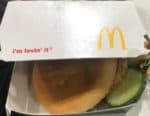 My first ride of my series was the Santa Special in December 2017 notable for my water bottle being totally frozen by the time I reached the start in Great Bromley!  The first half was below freezing  which then quickly changed to torrential rain for the second half 🙁 a pretty challenging 129 miles! Thanks Alex Nigel & others for the support.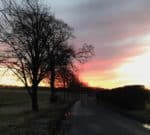 The second ride in January was a DIY due to the dearth of events but with Marks words of encouragement & his excellent notes I was able to create and submit a 127 mile route starting from my front door 🙂 and where I could start at 6am. The first 40 miles was 3 degrees below freezing but then rose to a balmy 6 degrees 🙂 but a pleasant ride via Bury & March all the same.
By February I was getting fed up with the cold and so decided to experiment taking the bike on the train to South Spain and completing my first continental 200 Audax the blog post can be found here all done in positive temperatures 🙂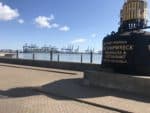 In March I decided to do my first Permanent these are predefined routes, many from previous calendar events, which can be ridden at any time this removes the need to create your own route fortunately for me Nick Wilkinson has made several which pass within one mile of my house. The worse aspect is the tediousness of collecting receipts as prove of passage whereas on DIY's you just submit the completed gps file.  I chose The Shipping Lanes one which involved getting to the mouth of The Orwell  & back. A lovely route apart from the shocking road condition and below freezing for the first few miles!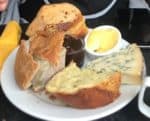 In April Sally joined me on The Georgian event  which unfortunately I DNF'd due to getting a puncture in atrocious wet & cold conditions. However, we salvaged the situation by doing another one of Nick's Permanents  The Infamous Pork Pie  with its over 5,000 feet of climbing which also enabled Sally to see her brother in Oundle.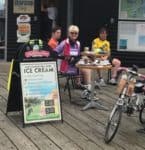 May saw me doing a cheeky 200km DIY as  a one way run, downhill with a tail wind from my sons house in Buxton plus later in the month we managed The Grand Tour de Stour Event a bit wet to begin with but later a lovely sunny & windy day.
In June I decided to be bold and  do my first 300km event another Nick Permanent the Cambridge East Anglia Tour it turned into a very enjoyable ride and amazing how much ground you cover in 200 miles taking in Ipswich, Norwich, Downham and the dull bit around Chatteris. Somewhat spoilt by having to collect so many receipts 🙁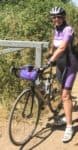 July we did the 5 Counties Ride organised by Sally's friends which we converted into a DIY Audax a tremendously hot day, at one point the Wahoo recorded 40 degrees which really took it out of me especially with the of road sections.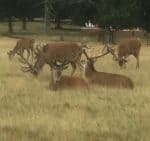 August saw me doing another one of Nicks Permanents this time the delightful 4 Counties 200 Km taking me over to the West through Woburn Park and even a pleasant bit through Milton Keynes what really made the day though was having an Easterly pushing me out and then conveniently turning into a Westerly to bring me home! Later in the month with Sally, I did my second 300 The Mildenhall Festival  which I found tiring although quite delightful in the dark from Swaffham.
On the first day of September Sally and I did the Chris Negus Memorial 200+ taking the train to Audley End and starting in Wendens Ambo another very hilly and convoluted route neither of which enamour me 🙁 especially since it came in at 230km.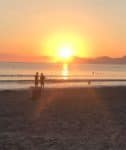 October saw us in Spain again, this time a DIY circumnavigating Mallorca the roads were pretty busy so it didn't quite turn out as good as we hoped but at least it gave us another 200km ride in decent weather 🙂
The final ride for my RRtY was in November to celebrate I did two the first one to get approved was a Permanent by Phil Whitehurst called The Four Minute Mile which is a very hilly ride crossing the Chilterns from Stevenage to Oxford and return this I did with Sally, Nigel & Yasmin from the Cambridge CTC a lovely route although navigating lanes and rickety cycle paths in the dark is not the best experience. I did another 200 Permanent earlier in the month Nicks Diss'd Clare Permanent but still waiting for that to be processed 🙁
So there it is my first and probably my last 12 months of riding a 200km every month, it gets quite stressful as if you miss a month you have to start all over again. Personally I'm staggered how some guys get up to 10 years of them! but then there seem to be plenty of audacious folks out there 🙂
A full index of the 27 Audaxes I've done can be found at https://www.geoffjones.com/audaxs-ridden/