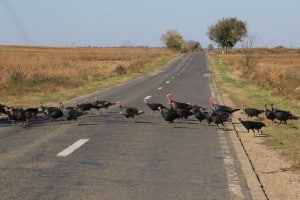 Another grand day out and I'm pleased to say someone gave the truckers a day of! Perhaps they were attending all the weddings going on in the various villages I went through. No gales today just a pleasant light breeze although I still clocked up over 13mph for the 90+ miles I biked.
The road was in good condition and I sensed that this area is slightly more prosperous, I even found a decent ¨western¨cafe in Zimnicea, although still no sandwiches but at least decent coffee & pastries 🙂 (There is also what looks like a  modern hotel there too if you want to bike 50miles).
The scenery is quite fen like with lots of real free range ducks & turkey's plus hundreds of square miles of good arable land.
Only a few glimpses of The Danube once I left the hotel. In Giurgiu I eventually came across The Hotel Sud, even though I biked around the old centre (yes it has an old centre!) it's the only place I could find.  Bit pricey especially with a blocked smelly shower & electrics that have to be rest at the consumer unit. AroundMe seems to have given up in Romania, today it was telling me to go to Bucharest!
Here is today's Strava and pictures.