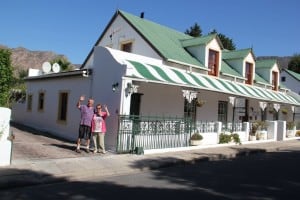 I left the luxury of 7 Church street after a hearty breakfast and with a cheery wave from Mike and May, it's owners, with Mike mourning the fact that he wasn't going on a long bike ride too. He was very inspired when I told him about Derek's blog http://nohangingaround.com/ Derek cycled from Cape Town to Ireland.
I stocked up with 3 litres of water as part of my new desire not to get dehydrated. The ride through the Kogmanskloof pass was incredible both for being flat 🙂 and riding around stunning cliffs following the river. I loved how some graffiti artist had modified the o in fort onthe sign Old English Fort 1899.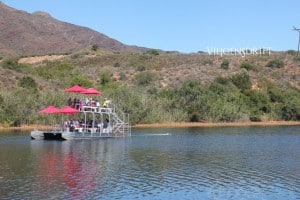 After the pass it was very pleasant riding through Ashton and then dropping down to the river at the Viljoensdrift winery. Certainly very pleasant scene and such a big river. Pity they didn't do cakes etc and the only coffee was from a machine  🙁
I progressed onto the Bon Courage winery where they did cake but alas only sold wine by the bottle!  Staggering really, especially with it being in the countryside, there must be many folks leaving over the UK limit.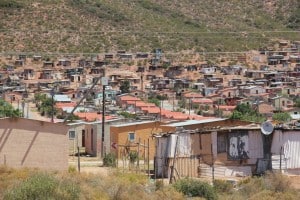 Robertson is a much bigger place than twee Montagu even having a little township on the outskirts. What puzzles me is that all the townships seem to have detached houses surely it would be more economic to build them as semi-detached?
Tonights place is Cedar Lodge very pleasant but a 30 minute walk from the restaurants in town. Its a 7am start tomorrow as it's another 50+ day 🙁
Strava says I did all of 22.3mi with an incredible 641 feet of climbing 🙂