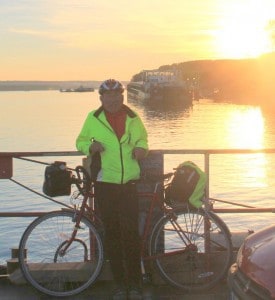 After my Romanian regulation cheese omelette for breakfast  I departed leaving the smelly bathroom behind. Fortunately, even though Romania is Catholic, all the shops were open so I was able to stock up with choc bars & fruit. Isn't it strange how France had a revolution to remove priests from power but to this day keep their shops closed on Sunday's.
The first stretch was the dual carriageway to Bucharest which is actually better & safer riding than the country roads, the lanes are wider. After leaving the highway it was back onto a country road that was more like a roller coaster with its 10% ascents/descents. Wending my way through many small villages, were interestingly I was getting greeted with Hola rather than hello, which made me smile after Colin's post yesterday about Romanian prostitutes in Spain.
The villages are now definitely more prosperous (only 60 k m from Bucharest) no garbage on the outskirts, fewer horse & carts and even a few quad bikes today. Although the hoses are virtually one continual ribbon development. Although be warned straying from the road can lead you into serious mud & mess.
No cafes today so had to settle for beer & crisps the crisps were 2 lei (40p) and 500ml of beer 3 lei (60p) which was pretty good, you can imagine the moans when I hit The Haymakers again 🙁
Finally saw The Danube for the first time today on the ferry over to Silistra which is just in Bulgaria. AroundMe found the Danube Hotel & Resorts for me, which is just as well as it was getting cold & dark when I arrived having biked just shy of 100 miles.
Here is the Strava (Excludes the ferry and he bit in Bulgaria) and a few photos here.