I spent Thursday meandering around Vinales, just about every house offers accommodation so if you are told the town is full take it with a bucket of salt! The town is popular with walkers going up the hills and around the tobacco farms.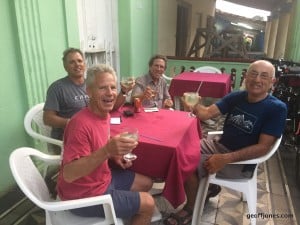 In the evening I was wandering around wondering where to eat when I spied three very expensive looking carbon bikes tucked away in a corner 🙂 I went to inspect and discovered their owners were from the USA (of cause with bikes like that) and even more amazingly one is the neighbour of my friend Tony Martin, who a few weeks ago Sally and I went walking in Snowdonia with 🙂 They all reside in Crested Butte, Colorado so are here looking for hills 🙂 I guess it now means that a trip boarding in Colorado at 3,000 metres is on the cards… One of them is a veggie so we returned to my favourite veggie restaurant 🙂
Friday was very wet and I was pleased to be taking the bus to Havana with the bike, 12CUC inc. You only have to remove the front wheel, lower the saddle and take any bags from it so easy really. The bus ended up with around 8 bikes and full of folks.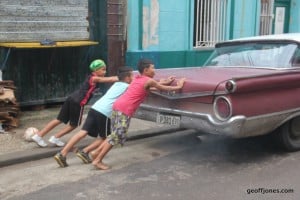 In Havana bus station whilst re-assembing the bike I got chatting to a group of German girls who had also done 2000km in 30 days, except they had used a Canadian company and a local guide, Enrique. Since they had finished their riding Enrique said follow him and I could stay with his sister in downtown Havana for a couple of nights 🙂 So once again I struck lucky although the area was very seedy full of working girls in the evenings and rubbish strewn streets every where. 🙁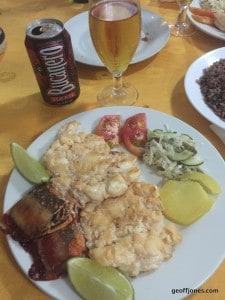 Lamar from LA in the USA ended up staying in the house too, so in the evening we all went around to The Fenix restaurant for lobster it was OK but hideously expensive at 103CUC for the three of us 🙁 🙁