After, for me, a record breaking 4 nights at the ultra deluxe Windsor Suites Hotel I'm moving  south towards Singapore  tomorrow.

The long delay was due to V.Siam Optical  waiting for my replacement prescription glasses which after 4 days duly arrived today, not particularly cheap at  £163 for varifocal adaptive glasses but wow are they lightweight in a titanium frame & ultrathin plastic with Crizal Alize coating. Suddenly I can see again 🙂 Must remember after snoozing that I still have them on!
My other 'major' purchase was a new bike mount for my iPhone. The Topeak performs well in wetter cooler climes. However, here it acts as a mini cloche causing the iPhone to overheat and switch off, even with no direct sunlight, 🙁 not so good for navigation.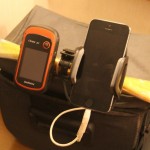 In Loft they had a Capdace Uniconcept  Asia Ltd Racer Bike mount holder,  HR00-BC01  for £13 which would be useless in the wet but maybe good in the dry as the iPhone is exposed to the wind directly, all it needs now is a little brolly  for shade so I can read it in the sun.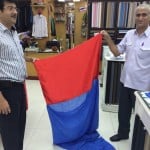 I also had one of the tailors here, Zerutti, modify my beloved Chinese  blue silk sleeping bag so it now has a  bright red silk pillow holder for when I return to my down market establishments that have no sheets..
Other than that I haven't bought anything here, except a few too many Starbucks Frappuccinos  🙁 In fact Bangkok is not really my type of place although I did get a decentish massage at the hotel today (although they need to buy their oils from Sally)  and just maybe my left heel fasciitis has eased of a little.
Tomorrow I'm booked into Baansuanphidchamika in Amphawa  so I should get to see the floating markets etc.