Muar is a delightful working town loads of real shops including a great bike shop who sold me a Panasonic inner tube for 10 Ringgits but didn't stock puncture repair kits.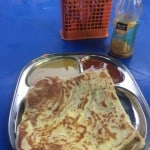 I started the day with some lovely egg roti's at The Soup House, joined later by Sabine. As we were finishing the French couple appeared. They had decided to take the coast route to Batu Pahat which isn't very far at all. Sabine and I had decided to head to Kluang about 100km away.
The road was very busy but we made very good time, with Sabine struggling ever so slightly to keep up 🙂 . In fact I started to think that maybe instead of having total rest days it might be a better idea to just have partial rest days doing like 30 miles  instead of zero, I've noticed after zero days my legs really hurt to begin with.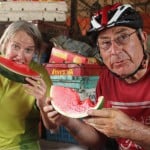 An advantage of having someone with me is that I can share a watermelon, they are truly delicious here, but way too much for one person and even for two a bit of a struggle. For lunch we found a guy making delicious peanut/honey pancakes 🙂
Close to Kluang we couldn't resist dropping in to the Zenxin Organic Park for a smoothie and a look around, a bit like a garden centre and obviously used to demonstrate organic food growing although most of it was closed.
We managed to just escape the rain storms so arrived in Kluang without a soaking. The White House Hotel at £9 per room per night was OK but the internet was totally rubbish. Interesting that the last two hotels have been run by old men. Both Kluang & Muar have dozens of hotels and it's really hard to see how they can make a living from it.
We ended up eating at  the Battown Hawker Centre after visiting a very disappointing heavily themed Kluang Rail Coffee cafe. An excellent day.

Here is the Strava for the day: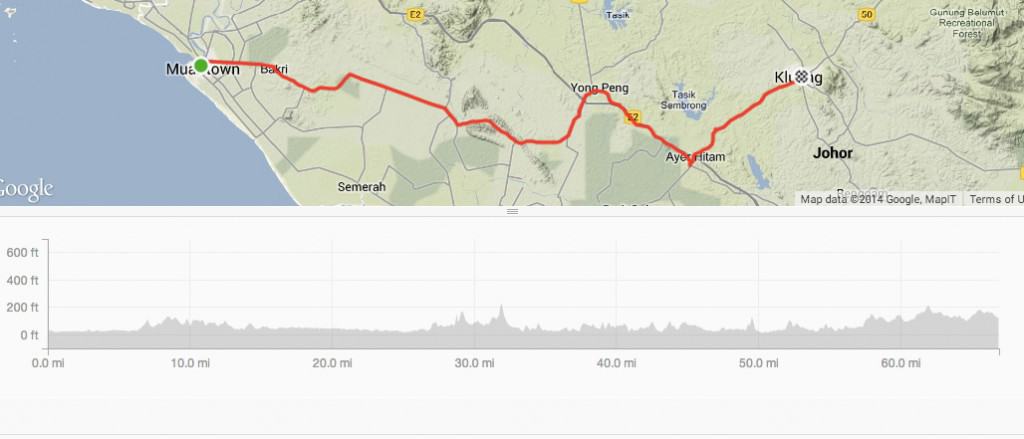 Sabine's take on the day is here