Whilst in Hanoi I decided to go on a package tour to Halong Bay after all the rave reviews from various folks I've met. Plus the shops were closed for Tet (Lunar new year).
The HanoiMoment2 hotel arranged the trip:
Overnight trip on the Aclass Opera Cruise with 01 deluxe cabin @ USD 149.00 per person x 2 = USD 209.00 in total, inclusive round trip transfers by shuttle bus. Please see tour program at:http://www.aclassoperacruise.com/opera/itinerany/heritage-discovery-2-days-1-night-of-aclass-opera-cruise.htm
In fact for whatever reason the price dropped to $199, which still seemed a bit steep given the low cost of everything here, plus I had seen tours advertised for $60. So I set off a bit wary as to what to expect, this was heightened when the guide Peter called for me and we drove to the backpackers hostel to pick up some young kids, who eventually turned up with enormous cases, much to his dismay!
So we eventually set off on the 3½ hour bumpy ride to the coast with a brief stop at the disabled folks workshop . This had the most amazing selection of stone carvings & other craft stuff. hen we arrived, the boat terminal was rammed full with over 4 million visitors a year this is one big attraction.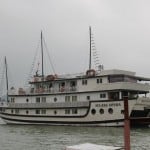 The boat itself proved to be excellent with a deluxe cabin, excellent shower & big windows, not that you spend any time in it as it is an action packed itinerary.
The scenery is breath takingly beautiful and to be honest the other ships add to the experience, the weather was an ethereal cloudy which just added to the beauty. In the afternoon we fitted in kayaking, climbing one of the peaks & swimming in the bay plus wonderful meals all exquisitely cooked & served followed by an evening of trying to catch squid amidst the floating plastic bags ugh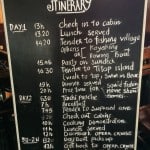 First thing today at 6am it was straight onto the top deck and into T'ai chi, my first experience and very good it was too. After a hearty breakfast it was of to the spectacular caves which truly live up to their name, the queue up was a bit of a pain but soon forgotten once you are inside it's vastness. Then back to the boat for a cooking lesson which I skipped as the views & tranquility were truly amazing. After lunch it was back to shore and the long ride back to Hanoi.
A great 30 hours meeting interesting people & seeing spectacular scenery my table of 6 had a couple from New York and a couple from Kent with their lad. The tour operator had put us veggies together and even cooked special meals. So pretty impressive. However, Jenny & Marilyn I can firmly say that one or two days on a boat is enough for me 🙂 so no mega cruises for me , yet 🙂
Thoroughly to be recommended….
Loads of pics here and here apologies  to everyone, except them, for the vast number featuring The Kentish folks 🙂
For Emily and her class  here is the route we took (clicking on it takes you to Everytrail)