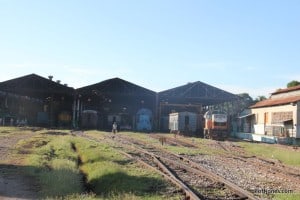 Guantanamo is a pleasant enough working city, I loved the city centre shop stocked with washing machines like some warehouse, only one model though! I left after a poor nights sleep proving that price doesn't always equate with comfort. I biked past the loco sheds, apparently the Cuban rail network is currently down, so it was safe to lug my bike across loads of tracks. Past the militarized bit around the US base, although where does that rainline go with it's new smart level crossing? Up the massive hill where you can look out over the US base if you go to the very top, no I didn't! You then hit the banana plantations and yes even roadside stalls selling coconuts & bananas although each item in the stall is sold by a different seller. Bananas were 25p a bunch and coconuts 25p for 2.
Along the way the guys from Newcastle pulled up in their MG 🙂 and gave me some energy bars sorely tempted to hop in the back 🙂 . Quite a few cyclists coming the other way, I saw 3 different couples came past, one lot on Brompton's, they must have been German as not as much as a smile came across. I was going to stop in San Antonio but at a cafe (yes they almost exist) I got harangued by a drunk so left. No one was willing to put me up which is remarkable when you consider the going rate is equivalent to a months wages!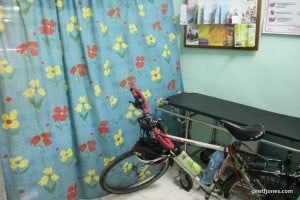 Eventually I came across the Campismo Yacabo to be met by a stony faced lady who made it clear the place was full, I hung around using the campside bar 🙂 after a while some guy called me over and showed me their infirmary, well it had a bed, toilet and a hosepipe so that's where I slept. Dinner was $6 and they charged $12 for the first aid room. 4 German girls were also staying, they had biked over from Baracoa and the look on their faces didn't bode well for me tomorrow plus they complained about the campside food….
48.6 miles biked with around 1800 feet of ascent no wonder I'm feeling knackered!