I woke up and rode to Barcelona Station in yet more heavy rain 🙁 stopping for an excellent breakfast at Granier where I ate last night.
I booked the €40.70  ticket to Valencia on trainline.com last night it arrived as a pdf that they said needed printing out at the station ticket machine. However, the RENFE  lady by the machine said I was OK with the pdf and wonder of wonders the train would depart from Platform 11, leaving me oodles of time to dismantle the bike by the escalator. I now have it down to a fine art, so 20 minutes later it was beautifully encased in the nylon bag, with even the derailleur tied in. The train guys were suitably impressed even letting me first down to the platform.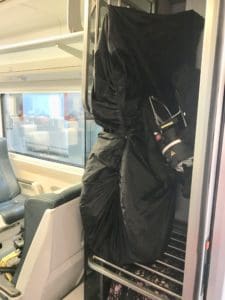 The train 1111 duly arrived and I was by the wrong door so a bit of a dash to find the pokey little luggage space was nearly full.  I just couldn't get the bike to fit in until a kind passenger showed me how to lift up the top shelf thus allowing the bike to squash in vertically, the rack is only 50cm wide by 1.2metre high thank goodness I had taken care to strap the wheels and derailleur to the frame!
Whilst travelling along I noticed the coach on the screen showed it terminated in Alicante which looking at my map was only 80km away from Murcia, my ultimate goal. A look at the hotels.com app showed I had 15 mins to cancel my hotel booking in Valencia at no charge, which I did 🙂 On trainline.com I booked an additional ticket for Valencia to Alicante at only €16.40 and then booked a hotel in Alicante all done from my seat – modern technology is magic although the train less so, as it kept coming to juddering halts!  So just after  6 hours and 350 miles later I alighted in THE SUN at Alicante to reassemble the bike.
The Esplanade Hotel is a bit faded but OK especially for €42 a night although the shower is only 2-foot square which is very tight for me and my scrubbing techniques.
So that should be the end of the trains for a while. It's been an illuminating experience but I don't think I will be in a rush to repeat it! Easy to see why people flock to planes with there generous luggage allowances, cheap & very fast flight times.
Flickr