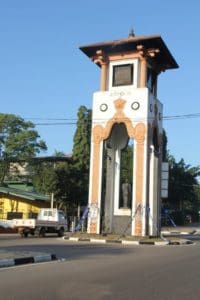 Once again I left early without breakfast, it seems so much better than wasting time in the coolest part of the day. Amazing to see all the school girls dressed in pure white dresses from infants to seniors. Must be a nightmare for washing.
Once out of town the road wasn't busy except for the usual nutters driving the buses. Pedestrians are another problem, they just wander across the road without looking then sweetly smile when you 🙂 I also had a couple of dog attacks today, two were beginners and came side on – a good yell sent them away. The more experienced came up from behind 🙁 but my long metal pump did the trick there 🙂
No nice posh eateries out this way but one shack was selling something like spicy scotch eggs but without the meat, quite yummy. Other ones had melon and coconuts etc so lots of fresh stuff today. My microbiome is doing well 🙂
Another thing which I've discovered is the joy of listening to podcasts such as the Food Programme, On our line etc etc. Really interesting and they play well on my JBL Clip 2 , unless the loud  buses & trucks are passing 🙁
I was getting a bit tired and thee road very busy at the end. Amazing how 99% of traffic is generated in the city.  It only seems to need a small amount of headwind to slow me down.
I turned of the busy road asap and stopped right outside Orr's Hill Guest House, they had a room for 3,500 so here I am. A friendly helpful place, they cooked a great meal tonight and even went into town to buy a couple of beers for me 🙂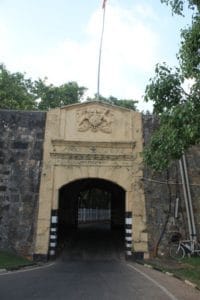 After a nap I took myself of to Fredericks Fort, a bit disappointing but a good ride with some 25% hills 🙂 The whole town is a garrison with barracks everywhere.
The main Strava is here