Ridden 29 Mar 2016
After yesterdays rest day were the checkout supervisor at Choppies kindly sorted out my Orange SIM card for me, although I felt a bit bad about giving Orange 400 Pula so I could buy 2 gigs of data. The retail shop wages are 4.32 an hour so it's nearly the equivalent of 100 hours work!
At 8.15 I was part of the queue at Barclays to try and get my card back, the place opened at 8.30 but not much action happened – I went to every till/information window where I was promised the card back in an hour or two! Eventually I located the manager and shamed him into opening up the ATM quicker. So at 8.54 I eventually was on my way.
Today was either going to be very short, camping at El Fari after only 70km or going the whole way to a guest house at 200+Km  I was making good progress so opted for the latter.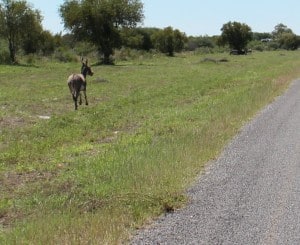 I made good time even having a race with a donkey at one point. However, I had left to late so by the time I arrived in Sehithwa it was pitch black with no street lighting. the 24hr Shell garage didn't have much idea except pointing back to the few houses I past. Eventually at a junction a shop had lights on, to my surprise when I asked them about the lodge they said the owner was right behind me 🙂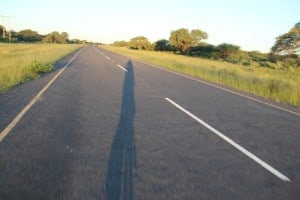 So of we went me frantically pedalling to keep up with his truck!  Monlek Lodge was OK but some confusion over a meal eventually a young lad bought over a tray of stuff which certainly helped to fill the empty space created by 121 miles of biking. A bit of a modern record distance for me 🙂
Strava says I did 121.1mi Distance in 9:21:35 Moving Time 140ft of climbing. Although it omits the 900 feet or so of descent.