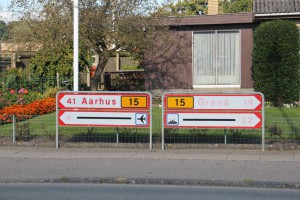 Last night was a bit of a shock when I discovered that the next Esbjerg sailing on DFDS was on Tuesday & an even bigger shock was that it was full, as well as all the next few sailings. How a huge ship can possibly be full so that one guy and a pushbike can't be accepted is a total mystery to me & probably explains why the ferry will cease to operate at the end of the month.
The next choice was overnight rail from Aarhus vi Hamburg, Dusseldorf, Rotterdam etc to the Hook of Holland for a overnight ferry. It struck me as very long winded way of getting back and quite expensive too.
Flightscanner bought up my bête noire, Ryanair, flying from Aarhus for a reasonable £46 and leaving at a sensible time in the morning. Also I could take the bike for an additional  £43 and I could also could put my saddlebag in the  hold all for a total price of £111 a hell of a lot cheaper than the rail & ferry would cost and would take a couple of hours so I could be back on Tuesday.  OK their site is full of man traps etc but hopefully I avoided them.
Since the Aarhus airport is actually halfway between Grenaa and Aarhus I thought I would drop in and check out about my bike etc. Wow! the two guys couldn't have been more helpful, plying me with coffee and insisting the bike would be well loaded (as they do it) they would even dig out some cardboard and tape so I could wrap it up on Tuesday am. They even rang the local Dabhostel at Ronde 14km away, after the website said it was closed, in fact they have withdrawn it from Danhostel to run it privately so the owners  agreed to give me the hostel keycode  and for me to leave the cash Tuesday morning. If it all works out a highly successful end for the trip and also opens up the opportunity of bringing the bike back to continue the North Sea Cycle Route to Sweden & Norway. Interestingly the airport guys said that Ryanair is becoming more reasonable when dealing with passengers now 🙂
I'm now in my tiny cabin at the CabInn Hotel in Aarhus a bit of a come down from last nights splendour but it has everything: shower, internet, power points  & bed.
So another surprisingly hilly 46 miles, with some quite bumpy stretches, on the clock see my Strava and a few pics here
PS: Unbelievably, as Victor Meldrew would say, the wind direction has flipped 180 degs to a west wind, so today it was still in my face 🙁