The day started real cold & at breakfast I felt under dressed with my cycle shorts & shirt, especially with the galaxy of expensive metal in the car park 🙁 The breakfast was a waitress pre ordained affair, not sure if this system creates more waste than buffets or not.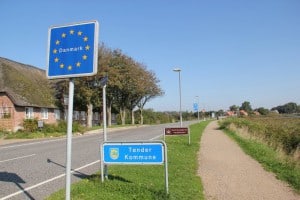 I was soon on my way and the jacket soon came off as the day quickly warmed up. It didn;t take long to reach the border and surprise surprise I instanly had a 3G signal courtesy of 3.dk  with their amazing Feel at Home deal – so no data charges, my bike instrument panel can now fully function again! although it has to be said Start of rant – the LUMOTEC IQ2 LUXOS U USB charging system is driving me nuts. When you stop, which is frequently with all the gates etc, the lights decide to come on, which means the USB output stops, when you get going again the lights stay on and so the USB output stays off until you notice and switch the lights of manually. In fact to charge the iPhone you need to be going more than 8mph, which can be hard with hills, gravel etc. Also the iPhone 5S disagrees with the charging quite a lot, reversing the lightning connector helps also not letting the iPhone battery get to full or empty. If there is any reason to dump Apple it's going to be the wretched lightning connector, it even gives problems when in the Air, I must have gone through about 10 of them now . Rant over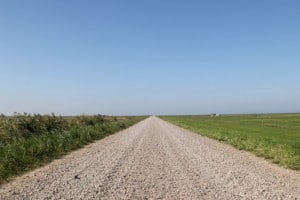 Once in Denmark I was really pleased to have the new rear tyre as a lot of the time was on rough gravel tracks, I noticed a real weird thing with the tyre though, it continually feels on bumpy ground that you have a puncture 🙁 in fact it must be the internal foam compressing, as the tyre is still pumped up at high pressure. I guess I will get used to it 🙂 since I had no punctures today. Towards the end of the day the Danes had at last discovered cattle grids, let us hope thats the end of the stupid little gates!
The villages are all very pretty but have no open shops or cafes so I was pleased when Ribe loomed into view where I had booked the Dan Hostel with booking.com, it's in a magnificent location with my bedroom having a glorious view over Ribe, I just hope the school party will get to sleep soon!
Checking out the North Sea Cycle Route & downloading the gpx route  it looks as though the Denmark section is 478 miles from Ribe to the end in Grenaa. So if the weather stays half decent I think I will keep on pedalling and then get a train back to the ferry in Esbjerg.
The 57 mile Strava is here and the pics of the day are here