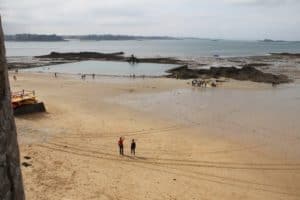 I arrived in St Malo with 15 Belgium Harley Davidsons just before midday, Condor had bought the start time forward by 2 hours because one of the boats engines had failed, apparently they needed to make sure it would catch the  tide to dock in St Malo.
I couldn't  easily change my booking at the F1 Hotel so I had a whole afternoon to do some sightseeing and checking out a route to get to Spain.
Whilst on the net in my rather dismal room, sans WC (Well for €35 what else do you expect) I happened upon the Cycling Brittany website which described the R2 route from St Malo to Arzal with a convenient gpx file for the first 110km to Rennes, so a decent day's biking along the canals & rivers. It was quickly added to my Gaia app 🙂
The next find was La Vélodyssée, the 1200km Atlantic cycling route from Roscoff to Hendaye on the Spanish border. My route from St Malo should hit  it at Redon which is only 75km from Rennes. So hopefully, should be a decent route all the way to Spain.
First task tomorrow is working out a route across The Rance Barrage to get across to meet the R2. A task made really easy with the maps.me app, although it has a bug which wants you to go around rounabouts the wrong way 🙁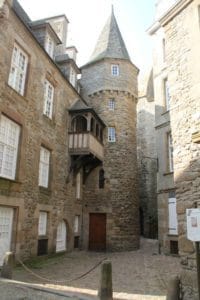 St Malo is well worth a visit. a historic walled town with lovely sands and a busy port importing timber from Russia
The very feeble Strava of 16 miles and 626 feet is here
The pictures are in Dropbox here