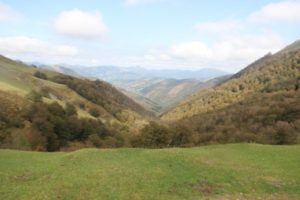 The evening meal at Chilhar was magnificent way more than my stomach, used to its simple life,  could handle so I had a disturbed night's sleep 🙁
Breakfast was equally outstanding, which was good as today was crossing The Pyrenees so I needed to be fit. Whilst loading up the bike the hotel's cycling neighbour and the hotelier proceeded to muse about which way I should go 🙂
In the end I settled for the route generated by Strava. The first 500ft climb awaited me round the corner 🙂 Dropping down to the Spanish border at Dantxaria I noticed large groups of cyclists heading into the Venta Paco cafe, so I joined them. Crikey was it crowded with very fit men (no women) on their expensive bikes. I had my Coke and just as well as it was the last cafe for a while. Then it was up the 1800ft climb (I thought i was the main climb 🙁 ) which I did OK with a long drop down to Truita. In the square there was a old fashioned village shop where I could buy a coke and crisps. Thinking to myself that was easy…
Alas, the 3000 foot brute was still to come, a never ending  zig zag climb up the Erreka valley finally ending at The Arteslaga Col at 984 metres a 2 hour climb without seeing a single cyclist.
The downhill is clearly magnificent and one of the reasons I love cycling so much over walking. Although the red/white markings where the GR12 crossed at the col made me feel nostalgic.
Even more nostalgia as I crossed into Pamplona on the same Camino bridge which I used exactly 12 years ago when I walked The Camino to celebrate my retirement and my first long walk.
Tonight I'm in the budget Alojamientos Olga to try and average out last nights splurge 🙂
Strava reveals the facts of my mega day 6,692 feet of ascent! in 57.8 miles and 6hr 15min 🙂 which compares very favourably to our Teide ascent  of 8,806ft in 51.1mi in 5hr 45min.
My poor heart suffered and you can see it peaked at 135bpm. I managed to get the Blaze to stay on for the whole activity too:
My heart rate crossing Pyrenees
compare to elevation profile
Elevation profile
A few pics are here