The first job on entering a country is to get the internet fixed on the phone, especially when @threeuk want £6 per megabyte! So straight into the Vip shop where to my surprise and utter delight I walked out 5 minutes later with a nano sim already online with 300 megabytes of data for 300RSD  (£2.20). or 8000 times cheaper than 3.  Why is it that non EU countries are so efficient at getting you on the internet so quickly and cheaply.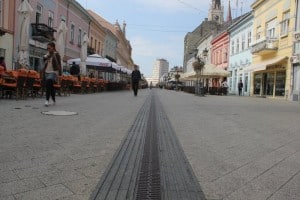 Another thing that caught my eye in Novi Sad is that the central area is all in new paving blocks. However, contrary to every other place that is taking part in this mania. Here they have paved the whole lot with no kerbs etc etc and just a large central gridded drain. How much cheaper  must that be to do than all the angle grinding of concrete kerbs, fiddly drains that block up etc.
The first part out is a bit of a nightmare with the traffic and no bike lanes, I guess no EU money for Route 6 here, after going through Sremski Karlovci I did a bit of creative thinking with OSM and made my own route through the National Park, total bliss a real winner 🙂 However, my second attempt at doing this after Beska was a total disaster, with a huge amount of very steep climbs up very rough tracks, so anyone reading this doing the E6, just keep straight on in Beska 🙂
Then it was across the vast plain with it's huge clouds of tiny winged insects making for very uncomfortable riding plus the atrocious driving with a totally new twist, slamming your car in reverse and ramming it down the road to get into a parking space you missed 5 minutes ago.
So I did get into Belgrade down, what could be, a very attractive street. Except the ancient cobbles were all loose with big holes where a cobble had disappeared . It's interesting how all towns were cobbled (Cambridge had the luxury of wooden blocks, so as not to upset the dons with noise) only to get them modernised & covered in tarmac, now to return to cobbles.
The Vila Terazije is OK ,nice and central as the disco beat  outside last night proved. It has the most complicated shower ever with an inbuilt radio more jets & buttons than necessary and must be a nightmare to keep clean.
Today I'm off to find my hero's museum. The inventor of the 20th century Tesla!, radio, AC power etc are all down to him. I went to see his birthplace with Emily 12 years ago and also visited where he died, a broken man, In New York. At last he is getting credit over Edison & Marconi who ruthlessly ripped of his designs & denied him credit.
The Strava for the 62 miles yesterday is below and the pictures are here. That makes it 1.674 miles since leaving Cambridge 54 days ago & yep I'm loving it 🙂 There is now a two week interlude from biking the Danube as I'm off walking in Hungary with Sally who won't be in Norfolk!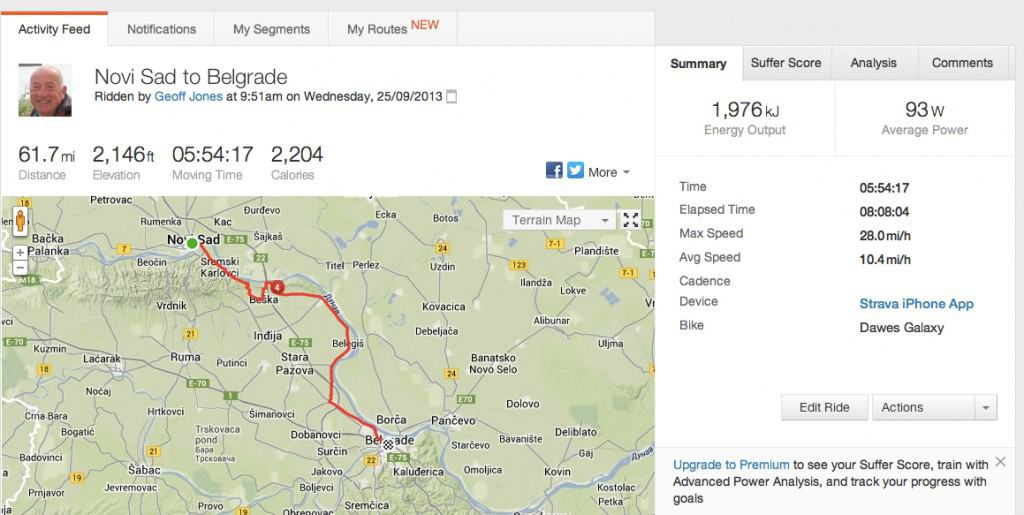 The Serb authorities are keen to know where you entered the country, imagine the receptionists amazement when I pulled up my Strava data on her computer 🙂